Gadgets Review Guide is a participant in the Amazon Services LLC Associates Program, an affiliate advertising program designed to provide a means for sites to earn advertising fees by advertising and linking to Amazon.com. This post contains affiliate links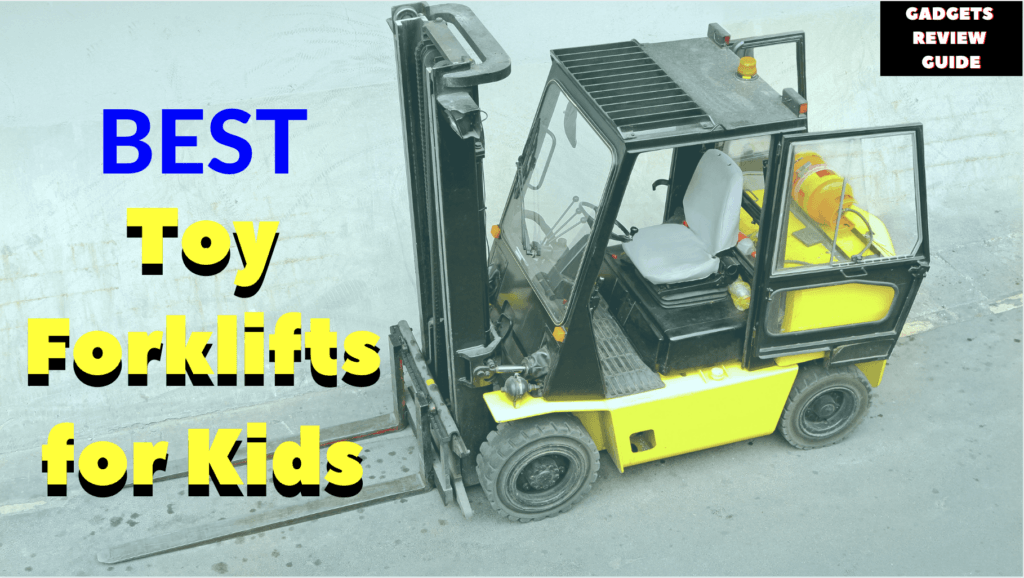 Best Toy Forklifts for Kids
From the beginning, toy vehicles have been an outstanding way for children of all ages to express their imaginations.
These toys vary in their design and type with their basic functions remaining more-or-less the same.
If you've ever stopped to consider what type of automobile would make a perfect gift, you've likely been stumped on what toy you should look for.
Being both simple and multi-functional, toy forklifts are the best of both worlds for a toy vehicle.
To help keep things organized for your research, a list has been compiled of the top 7 best toy forklifts for kids!
In general, these forklifts may be intended for a broad range of kids.
From easier-to-understand and use forklifts for younger children to more complex and intricate forklifts for older kids, there should be something for just about every child out there.
Rather than waste hours studying what toy forklift is best for the kids in your life, consider making use of this list to help smooth things along.
---
Other popular articles:
➡️Best Toy Semi Trucks With Trailers
➡️ Best 7 EXTRA LARGE Toy Organizer With Bins
➡️Best Toy Trucks With Doors That Open
---
Top 7 Best Toy Forklifts for Kids
---
1. Bruder 02511 Linde H30D Forklift

Overview
As a brand you may or may not be familiar with, Bruder brings customers a red and black forklift designed with ABS plastic and realistic details.
As with all Bruder toys, it's manufactured in Germany and is intended to be played with both outdoors and indoors.
The set comes with two pallets to attach to the forklift.
This toy forklift is recommended for children at least 3-years-old.
User Experiences
While reviews are mostly positive for this Bruder toy, there are some wary buyers strongly recommending other customers to not buy the toy for younger children.
Under the anonymous "Amazon Customer" label, a user leaves the following comment on the product:
"My 5-year-old loves how realistic this forklift is! It's been put to a lot of use, but due to the fragile nature of some parts of the trucks, I would not recommend it for a younger truck fan.

I believe that replacement forks are available, but keep in mind that if this is accidentally stepped on or played with too roughly it could break easily compared to other trucks."
MamaLove!!, pleased with her buy, appreciates the design and function of the forklift:
"This fork truck is super cute and functional. My 4-year-old loves that it has all the same movements as a real fork truck. The Bruder company has replacement parts on their website for inexpensive and free shipping."
Pros & Cons
Pros
Realistically designed like many Bruder products

Comes with two pallets for imaginative play

Multi-functional despite not requiring batteries
Cons
Alternative(s)
Though it may not be a truck or forklift, an excellent alternative is a toy also designed by Bruder.
Bruder Bworld Logistics Set with Man
>> Check Latest Price On Amazon <<
Though not quite as powerful as a driving forklift, this toy features a manual lift and a small figurine of a man figure.
This toy – as mentioned before – is also designed by Bruder.
Though it isn't a forklift attached to a vehicle, it being a lift, all the same, makes this toy a decent choice worth considering.
This toy is aimed at kids that are at least 3-years-old.
Alternatives found in this list:
1:22 Scale Friction Forklift with Pallets
---
2. LEGO Technic Heavy Duty Forklift

Overview
Being a brand you're likely to be familiar with, LEGO has designed a forklift for older children to design and play with.
Being a great way to help develop your child's mind and problem-solving skills as a LEGO Technic set, this forklift is a great toy that makes use of STEM – or Science, Technology, Engineering, and Math – to create a unique model.
All-in-all, this LEGO set comes with 592 pieces.
Due to its small parts and more complicated design, this toy is intended for children between the ages of about 9-years-old to 16-years-old.
User Experiences
The LEGO forklift's feedback is beyond positive with buyers leaving mostly 5-star reviews.
To begin with, user socalcritic mentions buying the set for their child while praising its features.
"The heavy-duty forklift has been our largest Technic set to date,"
They start while complimenting quite a bit about the set.
"We have really been enjoying the added challenge of the Technic sets and were ready to graduate from the smaller builds to something larger. I really like how the build keeps my little guy engaged with the working gears."
Stac also left a positive response to the toy"
"We bought this for our 7-year-old for his birthday about a month ago. He's already assembled and taken it apart six times, including the B model tow truck. It's his first Technic set and he couldn't be happier!"
Pros & Cons
Pros
Intricate and fun set for older users

Well-made in the toy's overall quality
Cons
While not necessarily a con, this toy isn't great for younger children and might be a bigger hit with older kids
Alternative(s)
If you weren't exactly after a LEGO forklift but wanted something similar, you may or may not be so lucky in that front.
The most similar forklift that you can put together manually is also in this list (the KAIM DIY Forklift Model Kit).
While the KAIM DIY Forklift Model Kit works well enough as an alternative for older children, if you were after something for younger kids, model kits and LEGO sets are likely something you'd have to avoid.
Alternatives found in this list:
KAIM DIY Forklift Model Kit
---
3. Top Race Jumbo Remote Control Forklift

Overview
Rather than being a push-and-pull toy with forklift functions, this toy forklift is remote-controlled for more technical experience.
The toy's description states that it can lift cargo that weighs up to 6 lbs and can pull a weight of up to 26 lbs.
Overall, the toy is stated to work for about 25 minutes off of one charge and takes approximately 90 minutes to fully charge.
The fork on the toy is intended to extend up to 15-inches in height.
The toy also features sound effects and lights.
Also included in the set is a 400mAh battery pack, a USB charging cable, a metal crane hook, and two pallets.
A rechargeable 400mah 7.2V battery is also included.
What is not included, however, are four AA batteries for the remote control.
This toy is designed for children 8-years-old and up.
User Experiences
Reviews for this RC toy forklift are a bit more of a mixed bag.
While there are buyers pleased with their purchase of this forklift, there are also more neutral reviews about the toy's quality and weight capacity.
While user danny cat's comment ends with a positive:
"Built strong and is a lot of fun to play with, took it out of service and now used as a static display. Recommend,"
Their review does mention the weight capacity of the forklift with how it…
"…can lift maybe 3 lbs before tipping."
Amazon user Disgruntled also pipes in with a positive, yet useful review:
"I bought this for my almost 5-year-old grandson. He pretty much mastered the controls (without the slab trailer) in a couple of hours, mostly because it goes slow enough to allow for corrective maneuvers."
They also continue their review with the rechargeable battery.
"The battery is rechargeable, but it's underneath the forklift. The connector is tiny and will be the first thing to break."
Pros & Cons
Pros
Well-made toy forklift

Rechargeable battery
Cons
Limited functions

The price is likely to be steep for lower budgets

The charging time for the battery may be longer than 90 minutes for about half an hour of playtime
Alternative(s)
Perhaps the remote-controlled toy features were what caught your eye originally on this forklift.
Maybe the toy isn't quite what you're looking for in a forklift but it may be something you'd like to see in one!
WolVolk 6-Channel Electric Remote Control Forklift
>> Check Latest Price On Amazon <<
Similar to the Top Race Jumbo Remote Control forklift, the WolVolk 6-Channel Electric Forklift is also remote-controlled.
Both function with a USB charger and a rechargeable battery.
The manufacturer's recommended age range is for children 3-years-old and up but it may be best for older children due to being a remote-controlled forklift.
Alternatives found in this list:
As the only remote-controlled toy forklift on this list, it doesn't have similar alternatives available.
---
4. 1:22 Scale Friction Forklift with Pallets

Overview
Stepping toward a smaller forklift, the next one on the list is a Liberty Imports toy.
Designed at a 1:22 scale, this orange and black forklift is designed with ABS plastic and is friction-powered; by pushing the forklift forward, it'll continue to move on its own without the use of batteries.
The lift is controlled using a knob control on the toy.
The toy also comes with pallets to attach to the lift.
For this Liberty Imports toy forklift, it's intended for children 3-years-old and up.
User Experiences
Overall, the comments left on this toy forklift have been positive on average.
Rather than what you'd expect out of a review, D. Rux notes that they use the Liberty Imports forklift to train recruits and teammates who aren't familiar with real forklift use.
Their review is as follows:
"I am a trainer in a manufacturing setting and many of our teammates have not used a forklift before. I use this model to discuss the parts, load center, and fulcrum action. The participants appreciate being able to see and manipulate the model."
From a parent's perspective, an anonymous Amazon customer chose to buy this forklift for their son:
"My son wanted a forklift toy for a very long time and this forklift from Liberty Imports definitely makes him happy. He plays with it more often than most of his other toys within this category."
Pros & Cons
Pros
Realistic in design and functions for a toy forklift

Comes with pallets for the toy as a set
Cons
Most reviewers note that they wish the crates and pallets were more sturdy than they are
Alternative(s)
Though different in appearance, some toy forklifts are smaller in size and simpler in design that works wonderfully as alternative picks.
Schylling Diecast Forklift
>> Check Latest Price On Amazon <<
The Schylling Diecast Forklift is a bit of a more detailed choice compared to the Liberty Imports forklift.
While the Liberty Imports forklift doesn't feature light and sound like the Schylling forklift, both come with friction-powered movement.
Also like the Liberty Imports forklift, this one is recommended for children at least 3-years-old.
Alternatives found in this list:
Bruder 02511 Linde H30D Forklift
---
Recommended for you:
➡️ Best 7 EXTRA LARGE Toy Organizer With Bins
---
5. BRIO World 33573 – Forklift

Overview
Take a step away from the more complicated toys you'd find for older children and away from the toys you've learned about thus far.
With the BRIO World forklift, you're given a cute and simplified toy forklift for young children.
Included in the product set are four pieces: the forklift itself, a worker figure, and the cargo.
Self-described as the "perfect gift for the creative toddler," this toy may be the perfect option for your kids if they're fairly young.
This set is for children 3-years-old and up.
Even though it's a simple toy, please be mindful of any small parts that may break off!
User Experiences
Reviews for the Brio World forklift are a bit hit-or-miss.
Some users are fond of the toy and others aren't as invested in its design and functions.
Sally V, for example, compliments the brand but critiques the toy itself.
"We have a lot of BRIO trains and toys and love them all. This one is nice, but the age' part of the forklift is constantly coming off at the hinge point. So far it's popped back on each time, but I expect it will wear out eventually. My son likes it a lot and I like the creative play it inspires."
Kthomps bought the toy for her 3-year-old child and was met with great results:
"My 3-year-old was pretty excited to get this for Christmas. He loves forklifts, the magnet is good quality and sticks well."
Another anonymous Amazon customer, however, doesn't think the toy would work well enough for younger kids, stating that
"the mechanisms require finesse to operate."
Pros & Cons
Pros
Cute, simple forklift toy

Comes with different parts to make a set out of it
Cons
Despite being aimed at younger children, it may not be the best toy out there for them according to other buyers
Alternative(s)
As a toy forklift designed for younger children in mind, it doesn't have any similar alternatives available to make note of.
While many toys are aimed at children at least 3-years-old, this toy, in particular, is one that is aimed specifically for younger ones to enjoy.
Alternatives found in this list:
Being a toy forklift specifically designed for young kids, it doesn't feature similar enough alternatives within the list.
---
6. COLOR TREE Ride-on Forklift

Overview
Instead of a small forklift to push and pull or even a remote-controlled toy forklift, something you may not have thought about is a ride-on toy forklift!
The COLOR TREE forklift toy is one that is designed for young children to ride to take their construction needs where they go.
Designed to be a 2-in-1 ride-on toy (being a forklift truck or a scooter), this bright, yellow forklift is a cute choice for the little ones.
This toy forklift is aimed at children about 3-years-old.
User Experiences
For the most part, this toy forklift has been met with a peppy response.
Madison commends the forklift as a "nice toy,"
Following with a review of how:
"We got this for my 3-and-a-half-year-old for Christmas because he was begging for a ride-on forklift."
The review isn't entirely positive, however, as she mentions how the lift isn't very strong.
"The lift drops if the box is too heavy and that basically means if you have anything in a box, so that's a bit annoying but we use a strap to wrap around the handles and that will hold the box up. If you have a toddler who is crazy about forklifts like mine, I would recommend this for sure."
Though their review is praising the forklift in the end, an anonymous Amazon user states that the forklift isn't too sturdy:
"It's a nice size and functions. Flimsy and screws came out after only a few uses. Confusing directions as well. My son loves it though!"
Pros & Cons
Pros
A fun ride-on forklift for kids!

Works decently with very light objects (which can also be a con)
Cons
The forklift stated to not be too sturdy or strong
Alternative(s)
Toy forklifts – namely those with a ride-on function – aren't exactly sprouting up everywhere you go.
If you're after a different ride-on forklift, your options are likely going to be fairly limited.
Linde Forklift Kid's Ride-on Toy
>> Check Latest Price On Amazon <<
Though noticeably more costly than the COLOR TREE forklift, Linde provides one of the other few toy ride-on forklifts available.
If you're torn on getting a ride-on forklift, perhaps this red and black forklift will be more of what you're looking for in a toy.
It's recommended for kids 3-years-old and up.
Alternatives found in this list:
Being the only ride-on forklift within this list, it doesn't have any alternatives listed here.
---
7. KAIM DIY Forklift Model Kit

Overview
As the final toy forklift on the list, you've got a more complicated toy aimed at older children with the main goal being to help with STEM involvement.
Rather than receiving a toy, you instead receive a model kit.  Included in the set are 130 pieces made of ABS plastic used to create a forklift with wheels.
This forklift model is intended for children between 6-years-old to 12-years-old but the recommended manufacturer age is at least 8-years-old.
User Experiences
The critique found on the KAIM forklift is, in general, filled with compliments. Many users are noticeably pleased with their purchase and their feedback reflects as such.
Nicole, for example, bought the kit as a gift for her son, who loves the set.
"Such a cool stem kit! My son loves to put things like this together. It great for kids to learn how to use tools, and how mechanical things work. All of the pieces are sturdy and well made, and the tire pieces are thick rubber. A very cool stem toy!"
Julius Marzuki jumped in as well with a positive response.
They do mention, however, that they believe the kit is definitely best for older children.
"It is a great toy to buy for kids, but I do suggest that the kids have to be older. It has a lot of small parts that might be dangerous for toddlers. I love that it is made out of metal, very sturdy and well built."
Pros & Cons
Pros
Great STEM toy for helping with mental development

Makes for a great option for older children who love forklifts and engineering
Cons
For the most part, there aren't any negative remarks about the toy kit
Alternative(s)
Much like the LEGO set, this model kit, unfortunately, doesn't have alternatives that work well enough outside this list.
While there are intricate STEM model kits you can choose from, this is the only one designed to be a forklift specifically.
Alternatives found in this list:
LEGO Technic Heavy Duty Forklift
---
Conclusion
Toy forklifts are a great toy you can give to the children in your life.
Rather than being aimed at one specific age group, this list has hopefully helped you organize what toy works best for children of all ages so you can find the perfect toy for your young ones.
Perfect for those who have an interest in forklifts in general or even just an interest in engineering, toy forklifts are a perfect toy to consider buying.
The next time you're needing to research a toy to get a child, toy forklifts – be them remote-controlled, model kits, or even small push-and-pull toys – are a good place to start.
---
More Popular Reviews:
➡️Best 7 Toy Rocket Ships for Kids
➡️Best 7 Ride On Excavators For Kids
➡️Best 7 Toy Horse Trailer Truck Sets