Gadgets Review Guide is a participant in the Amazon Services LLC Associates Program, an affiliate advertising program designed to provide a means for sites to earn advertising fees by advertising and linking to Amazon.com. This post contains affiliate links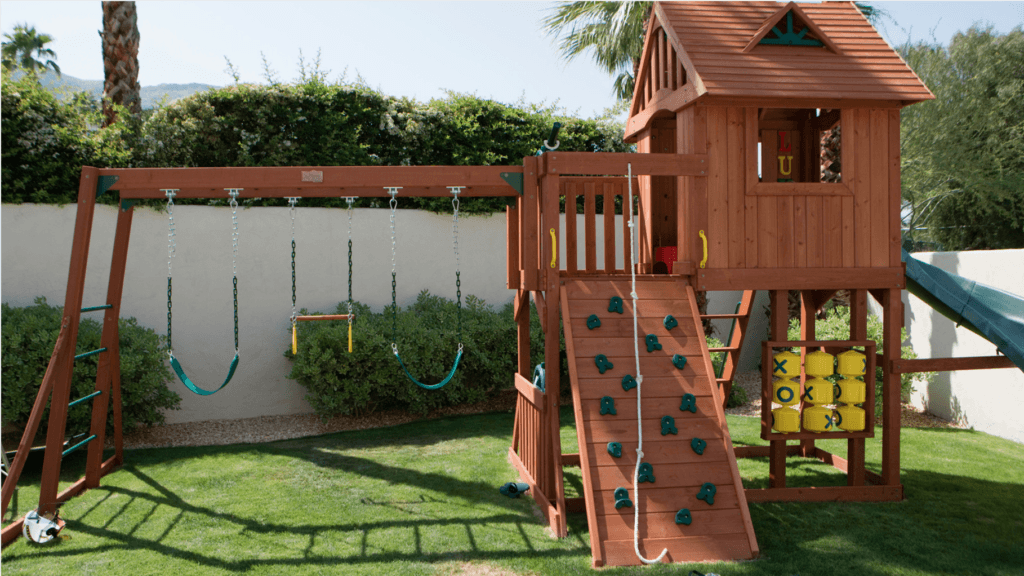 Best Backyard Playsets For Kids (2021)
Although they may lean a bit more on the expensive side compared to other things you can give to your child, backyard playsets are a wonderful way for children to make unforgettable memories as they grow over the years.
Backyard playsets are also a great way to offer a form of outdoor entertainment for your kids to have fun in the sun while being under your close supervision.
If your child loves finding themselves outside and their imagination runs rampant on the thought of playing outdoors, then these sets work wonders on letting them have the time of their life, even more so for children with friends or siblings they can play with!
Of course, picking and choosing the best one is no easy task. The costs can be high and the setup may take you hours for results you aren't too pleased with.
Researched and reviewed below are the top 7 best backyard playsets for kids to help you come to the decision of which set works best for your family.
---
You may also like:
➡️ Best Outdoor Trampoline With an Enclosure
---
Best Backyard Playsets For Kids
---
7. Big Backyard KidKraft Andorra Cedar Wood Swing Set

Overview
The first toy on the list is a great one at that. This mostly wooden KidKraft playset features multiple ways for the young ones of your family to have fun!
With a wavy slide and a canopied deck, one-half of the playset is made up of a simple, yet great way for your child to find entertainment.
There's even a wall for your child to draw on with chalk if they so desire. A small ladder leads up to the deck and underneath the deck rests a sandbox for you to fill with sand.
The other half of the playset is more simple (but most certainly not in a bad way!). This part features a pair of swings for two children to kick off with on a warm day.
This set would be best for children if they were at least 3-years-old!
The approximate time to put the set together is about 4-to-8 hours and step-by-step instructions are included as well.
Overall Experience
The Big Backyard KidKraft playset carries many functions and activities for your kids to do.
For kids who love being outside, this playset is – for the most part – great at what it says it does.
A nice part about the set is how the instructions are straightforward and not too difficult to follow.
Although it's a time-consuming process to put together, your kids would go crazy for this monster of a set since there's just so much for them to do!
On the other hand, this is a product for people who don't mind the tedious process of putting everything together; it's no lie to say this would likely take at least a few hours to make sure everything gets put together properly.
For the materials, things aren't quite as positive.
Unfortunately, the wood isn't the most sturdy; if it starts splitting, there's not a whole lot you can do other than try to salvage it or to be knowledgeable enough to replace it yourself.
Pros & Cons
Pros
Full of fun activities for your kids to use
Cons
The wood isn't exactly of the best quality; it'd be good to inspect it before putting everything together
Alternative(s)
Outdoor playsets that are more straightforward with being a slide, deck, and swing combination make for the best alternatives for the KidKraft playset!
Swing-N-Slide Knightsbridge Playset
---
6. Costzon Toddler Climber and Swing Set, 3-in-1 Playset

Overview
The Costzon playset is certainly different from the first set in the list but that doesn't make it any less fun for the kids!
This set features bright and vibrant colors and rather than wood, it uses plastic parts instead.
Included in this 3-in-1 playset are a swing, a slide, and a basketball hoop.
Since this set is on the smaller side for its size, it would work well to be an indoor playset during the rainy seasons.
Because this Costzon playset is intended for toddlers, it's recommended that your child be younger than 6-years-old to use it.
Overall Experience
One of the best parts you could appreciate about this playset is the simplicity and how easy it is to put together.
The building process compared to other sets is a considerably quicker process in general.
If you're raising a toddler or two, this set is an excellent choice because of its smaller size, simple functionality, and quick construction process.
It's also a nice aspect of the playset because it's great for outdoor use but also functions well indoors if you're not wanting to leave it outside.
Pros & Cons
Pros
Cute set for toddlers!
Works great both indoors and outdoors since it's small!
Has multiple functions
Cons
For this set, there aren't any notable negative aspects of the set
Alternative(s)
Sets best for toddlers are your best bet for a backup option if this playset isn't quite what you're looking for.
Costzon Toddler Climber and Swing Set, 4-in-1
Other Popular Reviews: ➡️ The Best Toy Lawn Mowers For Kids
---
5. Step2 Extreme Roller Coaster Ride-On Playset

Overview
Designed to be like a miniature roller coaster, the Step2 Extreme Roller Coaster Ride-On Playset is designed to be a short but fun ride for your little ones to take part in.
The coaster fits one child at a time and the wells on either side of the track help keep the car in place for each ride.
To put the car back into place, the coaster features small steps that are great for your child to improve their coordination and motor skills.
All in all, this ride is a great choice for younger kids.
It's recommended that your child be at least 3-years-old to use it.
Overall Experience
Instead of a playground-type of playset, the Step2 ride-on roller coaster functions as a short and simple amusement park-like ride for your younger kids.
For the entertainment of the toy, it's there!
The ride can hold a weight of up to about 100 pounds.
When it comes to the question of, "Will your child love this toy?" the answer is a solid, "Of course!"
That doesn't mean it isn't without its drawbacks (unfortunately). The setup can get a bit difficult despite how it's meant to be an easy preparation (albeit time-consuming).
Another one of the biggest issues this set faces is the materials it provides; to properly use the washers when setting up, the playset provides the bare minimum of the amount needed, which can be cumbersome if you mess up in the building process.
For the most part, however, this playset is a great add-on to your backyard for your kids!
Pros & Cons
Pros
Creative and fun toy for kids to play with outside for a long time!
The steps to push the car back up function well enough as stairs to help your children practice walking if they're younger
Cons
The setup process is frustrating for what it's worth; the playset needs extra washers in case some don't make it on delivery, if parts are lost, or if you just need extra parts
Alternative(s)
Step2 offers other ride-on roller coasters that work perfectly for your amusement park-loving toddlers!
---
4. Lifetime Ace Flyer Airplane Teeter-Totter

Overview
A great toy choice with multiple purposes, the Lifetime Ace Flyer Airplane functions as both an interactive plane and a teeter-totter playset!
The seats can hold up to seven children and the bars are constructed with powder-coated steel.
Other small details on the plane are controls on its dashboard, a spinning propeller, and the capability of steering the plane up, down, or side-to-side.
If you consider getting this outdoor playset for your child, bear in mind that it's intended for kids between 3-years-old to 12-years-old.
Overall Experience
The first place to start with this toy is the fact that it allows so many kids to gather and play together for such a simple idea!
It seats up to seven kids, which is great for larger families or for your child to invite their friends over.
For the assembly process, this one is another doozy. Things can get frustrating and it is a time-consuming thing to do for sure.
Still, Rome wasn't built in a day and this playset can't build itself!
Unfortunately, that doesn't make the instructions any less complicated to follow; it can be difficult if you don't have someone to help you build the plane.
Aside from the complications of building the plane, this is a complete hit with kids who love to go crazy with their imaginations!
There are seven seats, which is such a nice aspect of the set; it allows the kids to jump on and have the time of their lives!
It's also worth reminding the fact that it functions as a teeter-totter for children to be more active in their imaginative play.
Pros & Cons
Pros
There are several great things about this playset from the functions to the number of children that can play together with it
Cons
The building process is very time-consuming and less than ideal
Alternative(s)
While the Lifetime airplane is creative and colorful in its design and functions, it, unfortunately, doesn't have any similar choices if you're curious about any possible alternatives.
Other Popular Reviews: ➡️ Best Toy Fire Trucks with Lights and Sounds
---
3. Gorilla Playsets – Outing Swing Set with Wide Climbing Wall, Swings, and Yellow Slide

Overview
This playset goes above and beyond what you're looking for in one; similar to the Big Backyard KidKraft Andorra Cedar Wood Swing Set at the beginning of this list, the Gorilla Playsets offers the functionality of a swing, slide, sandbox, and canopied roof.
More than before, however, this set also offers a climbing wall and a trapeze bar with rings.
Another aspect of the set is the soft rubber grips on the swing chains.
The Gorilla Playsets set is recommended for children aged 3 to 11-years-old.
Overall Experience
The Gorilla Playsets backyard set functions much like the KidKraft set at the start of the list.
It's very similar to what you'd find on a playground and carries quite a number of functionalities for your kids to pick from!
Because of that, it allows an immense amount of playtime and fun for the little ones!
Compared to the KidKraft set, this playset has a lot of activities for your kids to give a shot!
Because of its climbing wall and a trapeze bar, it manages to differentiate itself from others like it.
It's also a nice touch for the chains to have rubber grips instead of cold chains because they're a lot easier on a child's hands.
The building process isn't too complicated if you're able to organize the parts and map out what goes where ahead of time.
Even when doing this though, you can expect to spend several hours just putting everything together.
Pros & Cons
Pros
Great, sturdy playset
It comes with a large number of functions for the kids to try out!
Although tedious, the instructions are clear to follow
Cons
If you're not wanting to spend a lot of time on it, this playset won't be a walk in the park when putting it together
Alternative(s)
Playsets that are heavy-duty in their functions and feature multiple activities are your best choice for alternatives.
---
2. Gym Dandy Teeter-Totter Home Seesaw Playground Set

Overview
The sixth toy set on this list is a bit more straightforward in what it offers as an outside playset.
The Gym Dandy Teeter-Totter Home Seesaw is a powder-coated seesaw toy that seats two kids.
The seats are padded and come with a bump-absorbing knob underneath each one.
A great and traditional addition to your backyard, this Gym Dandy teeter-totter works not only as an outdoor toy but as a way for your children to strengthen their muscles.
This teeter-totter is designed for children between 3 to 13-years-old.
Overall Experience
What outdoor playset would be complete without your everyday teeter-totter? The Gym Dandy Teeter-Totter toy is about as clear-cut as you could get on what you're buying.
Putting everything together is much more simple compared to large playsets and it's a classic playground set that seats two kids. A nice aspect of the seesaw is its bump-absorbing piece under each seat.
If you're wanting a simple and more affordable toy for your backyard, this is a great gift to add to any household!
Pros & Cons
Pros
Building the seesaw is simple and doesn't take too long
A classic toy that works great for two kids to ride on!
Cons
Although there are no negative aspects that are noteworthy, it's hard to say if your children will stay interested in it for a long time (since kids will be kids!)
Alternative(s)
If you'd love a teeter-totter for more children, Epoch Air offers a similar playset for the outdoors with four seats rather than your average two-seater toy.
Epoch Air 4-Seater Merry-Go-Round and Teeter-Totter
---
1. Creative Playthings Northbridge Swing Set (Pack 4)

Overview
Stepping back to a more traditional and multi-function playset, the Creative Playthings Northbridge Swing Set has a pair of swings, a climber wall with a rope, monkey bars, a wavy slide, a tire swing, and a set of ropes to climb into the main deck (which also features a covered roof).
The wooden parts of the playset are made of Southern Yellow Pine lumber, a material Creative Playthings prides itself in as being a durable type of lumber. This set also features step-by-step instructions on putting everything together.
If you're considering this set for your family, its recommended age range is for kids 2 to 12-years-old.
Overall Experience
Last and certainly not least is the Creative Playthings Northbridge Swing Set! This playset features many features from other playsets combined into one.
A great part about it is how it allows countless activities for your kids to choose from. From wall-climbing to sliding to even traversing across the monkey bars, this set has quite a bit to choose from.
Now for something you're likely to be curious about: assembling the set. This set is the largest of all the ones on the list and is the most time-consuming to build.
From the six hours other sets may end up taking, this one can take a good day's worth of time. The instructions are pretty easy to understand aside from this, so is the set worth buying?
If your kids love having friends over or your family is a decent size, then it just might be worth a shot!
Pros & Cons
Pros
A very large playset with so many activities to pick from!
The set is sturdy in its build and does what it sets out to do as a playset
Cons
Putting it together is beyond time-consuming; be prepared to put aside an insane amount of time to build this one
Alternative(s)
Creative Playthings offers multiple types of playground-like playsets.
For those interested, here's a similar set also by the Creative Playthings brand…
---
Conclusion
Backyard playsets vary in their shapes and sizes. From playsets that resemble things you'd find on an elementary school playground to simple teeter-totters, there are countless kinds of toys for your children to have fun with while taking in the outdoor air.
Although their overall prices can be a bit steep, they're an investment that might be worth your efforts, especially if you've got a bigger family or if your child loves to invite their friends over!
Along with being a fun form of entertainment for kids, these sets are also good for helping your child develop their motor skills and express their imagination.
If your younger members of the family love exploring the great outdoors but you want to make sure you can keep a watchful amount of supervision on what they do, consider a neat playset designed just for your backyard.
---
More Great Reviews:
➡️Best Toy Tow Trucks For Kids
➡️Best 7 Ride On Excavators For Kids