Gadgets Review Guide is a participant in the Amazon Services LLC Associates Program, an affiliate advertising program designed to provide a means for sites to earn advertising fees by advertising and linking to Amazon.com. This post contains affiliate links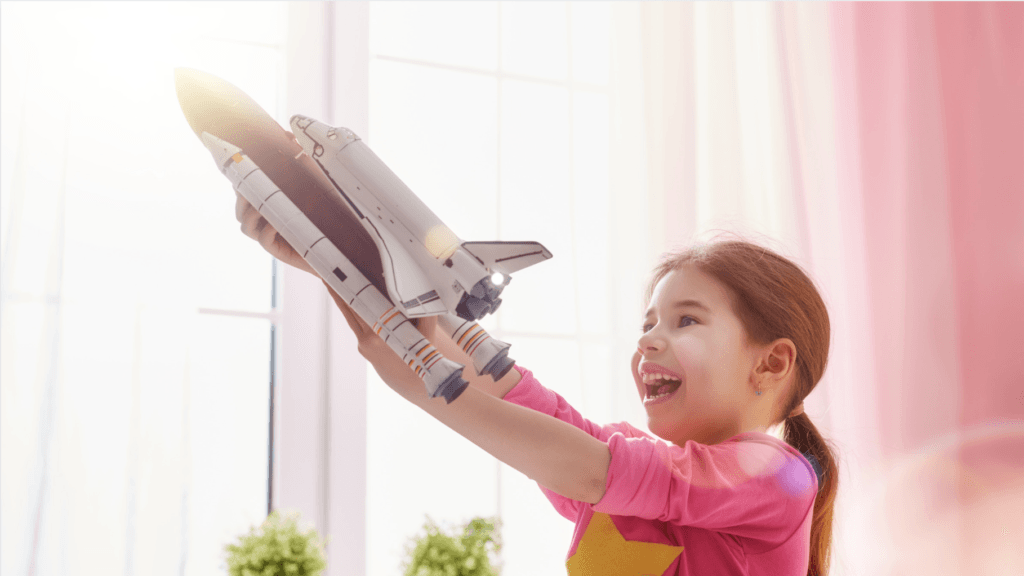 Top 7 Toy Rocket Ships for Kids
Space is difficult to understand, exciting, and manages to grab the attention of people of all age groups, and the little ones are no different.
Kids especially are fascinated with the idea of space and they love to play with space toys that are equally fascinating.
There is a huge demand for such toys among kids and many companies have come up trying to cash in on the demand.
As a result, there are hundreds of such toys and similar products.
That makes finding the best one an overwhelming and increasingly challenging task.
There are a lot of product categories when it comes to space toys.
You can get everything from space stations, rovers, and astronauts, etc.
In this article though we will focus on another category of toys: Rocket Ships.
To make it easier for you and help you choose the best Toy Rocket Ships we will walk you through a comprehensive review of the top 7 toy rocket ships for kids.
Let's look at these toys one by one…
---

---
Other popular articles:
➡️ TOP 7 Best 4 Lane Slot Car Race Track Sets
➡️ TOP 13 Giant Building Blocks For Kids
➡️ TOP 8 Toy Cement Mixer Truck For Kids?
---
Best Toy Rocket Ships for Kids
---
7. Toy Rocket Playset by Green Toys
This is the ideal toy rocket for your growing kids.
This simple plastic toy ship has some very precise and interesting detailing that allows your kids to explore their creative side when they are doing pretend play.
With every section offering something to your kids, it's sure to give hours of fascinating playtime to your toddler.
The top section detaches to becoming a mini lander or shuttle and kids love to play with it.
The top and the bottom sections have doors that are convertible as ramps.
And the ramps have ladders for the astronauts to walk in.
Both the upper and the bottom units stand on their own and do not tip easily.
The fact that these toys are made from green plastics makes it an eco-friendly option of fun for your kids.
The rocket does not run on battery and has no sounds coming from it, however, the unlimited creative things your child can do with this rocket create possibilities of endless fun.
Pros:
✅ High-quality plastic molds

✅ Sturdy and Durable

✅ Detachable upper and bottom sections

✅ Eco-friendly

✅ Enhances your Kids Creative side
Cons:
❌ Not too graphical

❌ No realistic sounds or features

❌ Not too much in the box
ALTERNATIVE: If you are looking for an alternative to the toy rocket ship by Generic, then take a look at the Space Rocket Ship by Sealive
---
6. Toy Rocket Set by Astro Venture
The best toy Rocket Ship that your little space adventurer would love to play with.
With dimensions of 16" Height and 9.5" Width, this is one of the largest rocket toys around.
With a lot of detailing in this toy ship, your kid would love to dive into an exploration spree.
The toy features three compartments and a ramp that drops down to move the rover in and out.
It comes with a couple of astronauts and a space vehicle.
The cockpit section is transparent so that your little one can see the astronauts in action.
Realistic lights and lift-off sounds make the space toy a favorite among the kids.
With loads of things and playing around to be done with, this rocket ship is a clear winner.
The carrying handle makes carrying this huge ship easy for your toddlers.
Pros:
✅ Surprisingly huge and kids love it.

✅ Realistic lift-off sounds.

✅ Transparent cockpit

✅ Light effects for a visual treat

✅ Convenient carrying handle
Cons:
❌ Made of Plastic

❌ Needs batteries for lights and sounds

❌ A little pricey
ALTERNATIVE: If you are looking for an alternative to the Toy Rocket Set by Astro Venture, then you can get the CP Toys Space Rocket Ship which I mentioned further above.
---
5. Wooden Stacker Toy Rocket by Svan
Let the curiosity and the explorer in your kid reach new heights with this all-wood toy rocket stacker.
The magnetic stacking blocks that can be easily put together, improve the building and the hand-to-eye coordination of your little ones.
With dimensions of 10.3" in height and 6.1 inches in width, this toy perfectly fits in your toddler's hands.
This toy is built completely out of wood with magnets that allow it to be dismantled and reassembled with ease.
Your little ones will love to assemble and dismantle it all by themselves.
With pretty strong magnets the rocket stays tightly together even when your kid holds it by the tip.
It comes with a cute little astronaut that fits perfectly in the rocket compartment.
The all-natural wood body means the toy is eco-friendly and non-toxic.
Get this 100% natural toy to build your kid's imagination and problem-solving abilities.
Pros:
✅ All wood natural body

✅ Strong and Durable

✅ Non Toxic paint used

✅ Strong Magnets

✅ Easy to dismantle and assemble

✅ Perfect for small hands of your kids
Cons:
❌ Paint may come off

❌ Damage may cause wood to chip off
ALTERNATIVE: If you are looking for an alternative to the Wooden Stacker Toy Rocket by Svan, then you may want to get the Rocket Construction Rocket Set by Tender Leaf Toys.
---
4. Spaceship Toy Rocket Set of 5 by Echo
Ideal for your kids aged 6 and above, this toy rocket set includes a replica of all the renowned space shuttles from space missions by NASA.
It's a good educator set for your kid and will act as a model when you tell the stories of America's glorious space explorations.
This set has 5 rockets and the space shuttle part dismantles into 3: the booster, the rocket, and the fuel tank.
The set includes the Mercury, Atlas and Redstone, Gemini Titan, Shuttle Transport, and Saturn V.
Being replicas of real space missions you are surely up for hours of interactive fun and play for your kids.
Pros:
✅ Replicas of real space missions

✅ Detachable space shuttle

✅ Informational and Educative

✅ Looks very real with NASA logos
Cons:
❌ Plastic clips go off easily

❌ Not the most durable
ALTERNATIVE: If you are looking for an alternative to the Spaceship Toy Rocket Set of 5 by Echo, then you may want to check out the Legends of Space – 10 pc Rocket Space Flight Set
---
3. Toy Rocket Ship & Space Shuttle Set by BSW

This is a massive 15 inches 10-pc space rocket toy set that is ideal for your kid's curious mind and imagination.
Based on real NASA equipment, this toy set looks to be a replica of one of NASA's space projects.
Let your kids mix fun with some learning with this realistic toy ship.
The set features a metal die-cast frame and body with some plastic on the body.
The truck and the astronauts are a nice add-on to the set and come in handy when your kid runs his or her imagination and thinks about what needs to be done with them.
The robotic arm that suspends a satellite is an added feature your kids would love.
With sturdy overall build quality, this one is definitely worth being in your kid's collectibles.
Pros:
✅ Massive toy at 15 inches

✅ Made of sturdy metal diecast

✅ Contains astronauts and the van

✅ Detachable boosters and fuel tankers

✅ Features a robotic arm
Cons:
❌ Too Pricey

❌ Contains some cheap plastic parts

❌ Bay doors may be torn off eventually
ALTERNATIVE: Just in case you want to find an alternative, the Space Explorer Space Shuttle Launch Center Playset can be a great choice.
---
2. Ryan's Toy Rocket Ship

This is one of the most trusted toy bands around and its toy ship is definitely a winner for your kids.
Though it's not that big of a toy, this rocket ship fits perfectly in your young one's small hands.
The toy ship features a pull-back feature that your toddlers will love when it comes to watching some action.
The astronaut with the toy fits in the seat nicely for your toddler to fly it around.
It features a space helmet for the astronaut.
The red and silver plastic body is a hot favorite for kids and your kids will love to have this in their collection.
Pros:
✅ Rightly sized for your toddler's hands

✅ Pull back and forward feature

✅ Removable figure with helmet included

✅ Durable and nice
Cons:
❌ Made of Plastic

❌ A bit too small

❌ High on the price for the size offered
ALTERNATIVE: If you are looking for an alternative to Ryan's Toy Rocket Ship, then the NASA Space Shuttle Pullback 8-inch rocket can be good for your bucks.
---
1. CP Toys Space Rocket Ship by Generic

Let your kids hop on an endlessly exciting journey with this amazing rocket ship.
Let their budding imaginations run wild with this perfectly sized toy ship. Let your little astronomers learn their first few lessons in astronomy themselves with this wonderful toy ship.
The toy ship features three compartments that open doors for the cockpit, the living quarters, and the ramp.
So your kid has ample features to explore in this toy. The set comes with 5 characters which include a couple of astronauts, two aliens, and one robot.
All of them look pretty formidable and your kids would simply love to play with them.
The ship features a space car as well, and the NASA logos on the ship, the car, and the astronauts make it even more fascinating for the kids.
It runs on 3 AG10 batteries that power the electronic countdown and the lift-off sounds for a real ship-like experience.
Recommended for kids aged 3 years or older, this one is sure to take your kid's imagination to the greatest levels.
Pros:
✅ Large-sized rocket ship

✅ Contains compartments to explore

✅ Characters to play with

✅ Realistic countdown and lift-off sounds

✅ Realistic NASA logos
Cons:
❌ Plastic Body

❌ Battery operated

❌ Manual doors

❌ Pricey
ALTERNATIVE: If you are looking for an alternative to the toy rocket ship by Generic, then take a look at the Rhode Island 5 Inch Spaceship
---
Final Verdict
Let the horizons of the imagination of your kids expand and outstretch, and let them learn through these amazing space rocket toys.
These toy rocket ships while on one hand developing the aspirations and imaginations of your kids, they imbibe in themselves the basic sense of curiosity and information gathering through exploring too.
And now that you have got a pretty good idea about all the products and similar items around you might want to get one for your little one today.
Follow the links to purchase on Amazon and you will not regret the choice you've made.