Gadgets Review Guide is a participant in the Amazon Services LLC Associates Program, an affiliate advertising program designed to provide a means for sites to earn advertising fees by advertising and linking to Amazon.com. This post contains affiliate links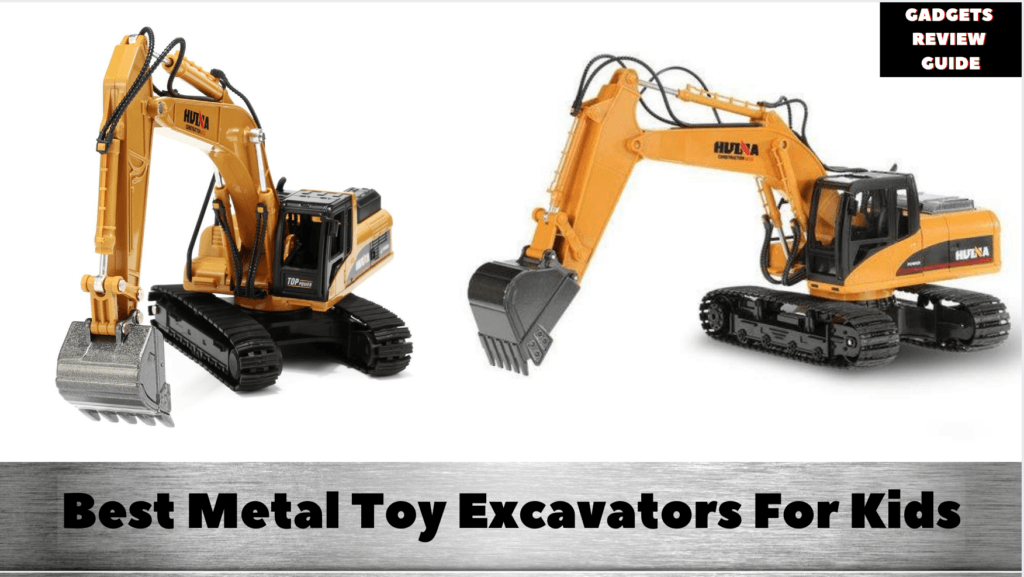 Best Metal Toy Excavators For Kids
Toys come in all shapes and sizes.
With toy excavators being included in that list, they're a perfect example of something that can look completely different depending on what you're looking for.
To start with, toy excavators are essentially shovels for your children to use to scoop up sand or dirt (depending on the durability of the toy!) so they can then mimic the working days of a construction worker.
To simplify things, they're the perfect toy for your kids if they have a knack for construction tools.
Rather than plastic toys, however, toys made of metal are a great, long-lasting choice for your kid's indoor and outdoor playtime.
Because of their materials, these toys can range from being decorative collectibles to even something they can handle more roughly.
Whether it's to help find your child the perfect toy made of metal or something to help spark their love for construction sets, this is a list naming the top 7 best metal toy excavators for kids!
---
Best Metal Toy Excavators For Kids
---
1. TongLi 580 1:14 Scale All Metal RC Excavator

Overview
Designed as an all-metal toy excavator, this excavator is manufactured by TongLi and is described as being 95% zinc alloy.
This toy is a 3-in-1 design and features a bucket, jackhammer, and grapple as changeable accessories.
It also has a built-in LED light.
Great for long-term use of simply being a collectible, the TongLi excavator is a great choice to start this list.
The recommended age by the manufacturer is at least 14-years-old, as the toy is intended for older kids or adults.
User Experiences
For the most part, reviews for the TongLi toy excavator are mixed or positive.
Mike jumped in to buy this excavator but was wary due to having never heard of the brand and noting that even though he hadn't…
"…put a whole battery charge through it yet,"
The excavator was…
"…powerful! It's agile as well."
He finished his review by stating that…
"…everything worked right out of the box."
Alice D Williams bought the toy to use with her son and was pleased with her purchase:
"This thing is amazing. I took it outside with my son and got to digging [and] even though it's a bit cold out [and] the dirt is hard, it still managed to break the surface."
Ben Scharien also left positive feedback on the excavator:
"Great service, arrived early. It was exactly as advertised, all items were received and in new condition. After charging the battery I tried all functions and they worked GREAT!!"
Pros & Cons
Pros
All-metal and high in quality excavator
Works well for older kids or even adults
Cons
This toy is extremely hard on tight budgets and the price is nothing to scoff at!
Alternative(s)
Remote-controlled toy excavators aren't too rare but coming across another made of mostly metal can be a bit difficult, as toy automobiles are often mostly made of ABS plastic mixed with diecast parts.
Top Race Hobby Remote Control Excavator
>> Check the latest price on Amazon <<
Compared to the TongLi toy excavator, this Top Race toy is very similar in its design, function, and overall costs.
Truth be told, the only notable difference between the two is their controller color.
The manufacturer's recommended age for this toy, however, is at least 15-years-old.
Alternatives found in this list:
As the only remote-controlled excavator listed, it's without alternatives on the list
---
2. duturpo 1/87 Scale Diecast Mini Excavator (Red)

Overview
A deep red and black mini excavator, this toy is made of diecast parts.
The toy is designed as being mostly made of metal but very small parts are plastic.
The tracks on the excavator also move as the excavator rolls.
If red isn't to your liking, there is also a yellow version of the excavator available on Amazon.
The manufacturer's recommended age for this toy is 6-years-old and up.
User Experiences
While the reviews are mostly positive for the duturpo toy excavator, there are some reviewers with their fair share of complaints.
This isn't the case for anonymous user Guest46, as their comment is as follows:
"I was hesitant about buying this product after reading the reviews, BUT my son wanted a RED excavator whose tracks actually moved. This toy did not disappoint."
Tiago B G Perez's feedback on the excavator also commends the toy while noting one of its flaws:
"Got this for my 3 boys to play (ages 2 to 4), who love construction machines. I thought it was a lot bigger from the pictures, but that didn't take away from their enjoyment and it fits nicely in their hands."
Pros & Cons
Pros
Nice, vivid red toy excavator (though a yellow option is also available)
Cons
The size is fairly small compared to what you'd expect for a toy
The excavator has issues with the tracks falling off, as they're one of the few parts not made of metal
Alternative(s)
The company – duturpo – that manufactured this toy excavator has a larger one available while being labeled as a "metal excavator."
duturpo 1/50 Scale Diecast Crawler Excavator
>> Check the Duturpo Store on Amazon <<
Also distributed by duturpo, this toy excavator is the perfect alternative if you're after something a little bit bigger.
This toy is intended for children at least 6-years-old.
Alternatives found in this list:
This duturpo excavator is the only one of its kind within this list, making it have no alternatives listed
---
3. Costzon Kids Ride-on Excavator with 4 Wheels

Overview
The first ride-on toy on this list is the Costzon excavator, which features four wheels at the base of a bright orange, metal excavator.
Some parts, such as the wheels, are made of plastic and the handles are rubber; otherwise, the entire frame is metallic.
This excavator also has an 88 lbs weight capacity and is a good size for young children.
Costzon recommends the product for kids 4-years-old to about 12-years-old (though most reviewers state that it's only big enough for very young children about 4-years-old).
User Experiences
The Costzon Kids Ride-on Excavator with 4 Wheels has, for the most part, been met with positive reception.
While going into detail on the assembly process and the excavator's durability, The Tommasinis comments on the overall quality of the toy:
"It's been 2 intense weeks of play (first few weeks of a toy are the test of durability), including a birthday party, and it's been left in the lake.

No rust or paint flaking yet. The only issue is there's one main bolt in the center of the scoop assembly that needs to be re-tightened."
They later update their review three months later with a comment on the quality of the excavator.
After three months of leaving it outside in strong heat and rain, their opinion on the toy remains the same:
"At this point, I can recommend this toy. It allows for free/imaginative play, which is important for kids' development."
Brooke's response to the toy is also appreciative but she leaves critique on a few points.
She mentions the quality of the wheels, noting how it's…
"…Sad the wheels aren't rubber, but plastic."
She then comments on the size of the excavator compared to her son's height:
"My son is exceptionally tall, so at 4 this probably won't last more than a year before he can't use it comfortably."
Regardless, she ends her review by recommending the toy:
"It does seem pretty sturdy though, I'm glad I bought it."
Pros & Cons
Pros
Sturdy and mostly metal excavator toy
Cons
Alternative(s)
Although not created by the Costzon brand, an excavator by Childrensneeds.com is designed similarly to the Costzon excavator.
Sandbox Digger Toy Excavator with Wheels
Available in red (and other colors!), this excavator is produced by Childrensneeds.com.
Both this toy and the Costzon excavators are initially red with four wheels.
This excavator supports up to 120 lbs and is the perfect alternative to choose from.
Childrensneeds.com recommends that your children be at least 4-years-old to use this toy.
This digger, in particular, is also available in blue and yellow…
Alternatives found in this list:
Childrensneeds.com Ride-on Excavator
---
4. Childrensneeds.com Ride-on Excavator

Overview
A bright red excavator, this toy produced by Childrensneeds.com is somewhat similar in design to the Costzon excavator.
Rather than wheels, this digger uses four separate legs at the foot of the toy.
Supporting up to 110 lbs, you could consider this toy to be more sturdy than others like it.
If you'd prefer another color, this excavator is also available in blue and yellow
User Experiences
Met with very positive reviews, this toy has resulted in quite a few happy customers!
Ptdash, for example, bought the excavator for their son as a Christmas gift:
"We bought this for our son for Christmas. He loves it."
Following this, they praise the durability and paint-job on the toy:
"We have left it out in the rain and snow this winter and even though it has only been 1-1/2 months it has held up nicely here in New England. The paint finish is durable and the construction is nicely designed."
Steven Webb also compliments the quality and shows surprise at how well it's stood up to the weather:
"My daughter had some trouble moving the bucket lever. Once I loosened the bolts on the joints a little she was off to the races.

That is literally the only problem we've had. It has rained almost constantly over the past few months, and the digger shows no signs of rust or fading."
Pros & Cons
Pros
Sturdy and holds up against the weather
Cons
The critique on the toy isn't so bad that they'd be drawbacks to getting the toy.
Price-wise though, it can be bad on lower budgets
Alternative(s)
The company that created the toy, Childrensneeds.com, has created several toy excavators that are perfect backup ideas.
Childrensneeds.com Sand Digger, A Heavy Duty Metal Backhoe Toy (Yellow)
>> Check the latest price on Amazon <<
For the most part, this toy excavator is very similar in design to the Childrensneeds.com Ride-on Excavator.
Instead of four legs at the bottom of it, however, there is a square-shaped barred base.
Even sturdier than before, Childrensneeds.com recommends this toy for kids at least 5-years-old.
If you'd prefer other colors, there is also one in blue and red
Alternatives found in this list:
Costzon Kids Ride-on Excavator with 4 Wheels
---
5. Caterpillar 390F L Hydraulic Excavator

Overview
Stepping away from the ride-on excavators, you've got the Caterpillar 390F L Hydraulic Excavator.
This excavator is about 11-inches in length. Made of mostly diecast materials and small plastic parts, this toy even features metal tracks at the bottom of its frame. It's also capable of rotating 360 degrees.
Designed mostly for being a collectible, this toy is recommended for kids at least 14-years-old.
User Experiences
The buyers who jumped into their purchase expecting a collectible were more pleased with their purchase.
Most reviews for this product are positive with customers complimenting the intricate design and attention to detail.
Amazon user RD started their review off by being surprised at how large the excavator was:
"Really nice model from Diecast Masters. It has some nice features like opening doors to view the engine, etc. It's big and heavy but really well put together. Looks great on display."
Frank Rodrigues leaves feedback on the toy as well and commends the design.
"It's very realistic-looking. I have it alongside the D11T model."
Pros & Cons
Pros
Very strong attention to detail
Cons
If you're looking for something to be played with, this toy likely won't fit the bill as well
The price can be costly depending on your budget
Alternative(s)
Caterpillar excavators are available as different models with metallic materials.
If you're stuck on an alternative, these make for a great choice to consider.
Caterpillar 5110B Hydraulic Excavator Core Classics Series Vehicle
>> Check the latest price on Amazon <<
Also functioning as a collectible, this excavator carries a detailed design.
It's realistically modeled after CAT machinery.
Due to being a collectible, it's recommended for your child to be at least 14-years-old.
Alternatives found in this list:
3D Metal Puzzle Models of Construction
---
6. iPlay, iLearn Heavy Duty Construction Site Playset, Metal

Overview
A trio of construction vehicles and machinery, this iPlay, iLearn playset features a toy tractor, dump truck, and excavator.
Each toy is described as being metal-made, created with diecast metal.
The set works well to be played with or even just for display if that's what you'd prefer!
It's recommended that your child be at least 3-years-old to play with these toys.
User Experiences
Because these toys are made of metal while also being directed toward younger kids, they've received great feedback for the most part.
W. Giant leaves a review praising the metal aspect of the toys:
"The metal on these is great. They feel a little stiff, but also like they will last."
Because his 2-year-old son loves cars and trucks, George Peh got him the set as a gift:
"My son who loves all things cars and trucks loved this set. Each vehicle has some moving parts just like a real vehicle would."
He finishes the review by praising the overall quality:
"The quality ranks as one of his best, it has been a huge hit. He plays pretty rough with it every day."
Morgan also got the set for their son, this time is because of his love for construction tools:
"My little one is a construction expert. He loves EVERYTHING construction. He doesn't have anything like this excavator and dump truck, so I decided to get this as one of his birthday gifts."
Their review also resulted in a recommendation for the toy set:
"I highly recommend these to anyone with a construction fanatic."
Pros & Cons
Pros
The quality of these construction tools are well-made and sturdy
It comes with not just an excavator but two other tools!
Cons
The dimensions in the photos don't match the toys' actual sizes
Alternative(s)
iPlay, iLearn has created multiple toy sets for your children to love.
Despite this, there aren't any similar toys that feature a metallic excavator.
Because of this, there aren't any alternatives available to pick from.
Alternatives found in this list:
Though this isn't the only set in the list, it's the only one meant for small children
---
7. 3D Metal Puzzle Models of Construction – Excavator, Bulldozer, and Front Loader

Overview
When the words "metal excavator" come to mind, the first thought to cross your mind likely isn't a 3D puzzle.
This puzzle, however, features a very detailed excavator when completed along with a front loader and bulldozer.
Though these are meant to be displayed rather than played with, they're nonetheless fully metal construction machines that make a great addition to this list.
Due to being an intricate 3D puzzle, it's recommended that your child be at least 14-years-old.
User Experiences
Feedback surrounding this puzzle kit is fairly positive with buyers being happy with their purchase.
This is also true for Patricia F., who bought the kit for her grandson:
"Bought this set for my grandson, he absolutely loved them. The finished product is nice enough that it's going in my curio cabinet. Slight mix up with the kits in the order but the company took care of it extremely fast."
Other buyers are also pleased with their buys, such as Edward Batt, who states that it's…
"…a fantastic price for a fantastic idea."
Pros & Cons
Pros
Entirely metal puzzle to create detailed construction tools
Cons
Time-consuming to put together (which can be expected for a puzzle!)
If you're hoping for this toy to be played with, it's only decorative once completed
Alternative(s)
Unfortunately, there are no other 3D metal excavator puzzles on the market.
The brand, 3D Metal Art, provides puzzles for other tools and man-made creations though, such as farm tractors or amusement park rides.
Alternatives found in this list:
Caterpillar 390F L Hydraulic Excavator
---
Conclusion
Toys made with metal parts are typically sturdier than others and are, for the most part, designed to last for years and years.
While these aforementioned excavator toys work best for kids with a love for construction tools and worker equipment, metal toy excavators are also an excellent choice for children that appreciate playing outdoors or have a habit of being too rough on their playthings.
Of course, not all toys made of metal are meant to be played with!
Much like any other toy, some may be collected, which can then be a great way for children to learn to appreciate the way things are designed or crafted.
Regardless of the reasons you have or why you choose to pick out a gift for your child, remember the quality of metal toys can't be beaten!
As something that can be passed on in the years to come, these toys are long-lasting and are a perfect choice the next time you need a special gift for a young member of your family.
---
More Popular Reviews:
➡️Best Toy Tow Trucks For Kids
➡️Best 7 Ride On Excavators For Kids