Gadgets Review Guide is a participant in the Amazon Services LLC Associates Program, an affiliate advertising program designed to provide a means for sites to earn advertising fees by advertising and linking to Amazon.com. This post contains affiliate links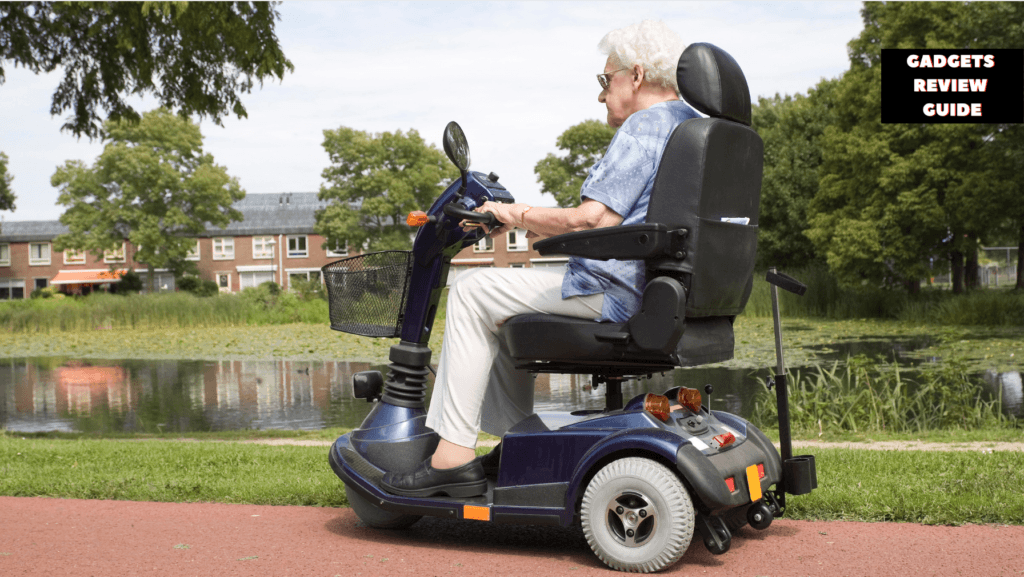 3 Wheel Mobility Scooters For Adults
Mobility scooters are your ally against illnesses that impair mobility.
Conditions like bunions, rheumatism, and arthritis make the short walk very agonizing. And if you're suffering from these illnesses right now, seek medical help before everything gets worse.
Most doctors will advise you to use mobility tools for minimizing the torturous effects of the conditions I mentioned above.
Speaking of mobility tools, wheelchairs are the cheapest.
But let's face it, getting into it is as embarrassing as wearing diapers naked in public if you didn't reach the point of being old enough to look like the elderly in retirement homes.
That said, get a classier ride so that people won't see you as sick or timid.
Speaking of classy rides, why not try tri-wheel mobility scooters?
Mobility scooters nowadays are very stylish, some even look like the wave series from Honda, Kawasaki, and Yamaha.
Already feeling the urge to buy? Then I'll stop paltering.
Here are some of the best mobility scooters that you might want to check out for this year and beyond…
Related:
➡️ Best 4 Wheel Mobility Scooters For Adults
---
1. Pride Victory 10 Tri-Wheel Scooter

---
The Pride Victory 10 is a tri-wheel scooter for emphasizing beauty.
This product fits the category of country/city mobility scooter due to its trendy design.
With its sexy curves, robust wheels, and innovative handlebar, Pride Victory 10 gives you a very classy riding experience.
This scooter's handlebar is unlike any other. Made out of durable plastic, the handlebar stem is very robust and attaches to an adjustable joint lock then curves a little at the topmost portion where the handlebar is found.
The handlebar itself looks very wonderful. And instead of the conventional grip design that most mobility scooters have, Pride Victory 10's handlebar looks almost the same as the removable steering wheels of F-1 vehicles.
The seat is quite good; Its padding is very extensive and soft. The same also goes for the backrest. There's even an armrest to maximize comfort.
Last but not least, the placement of the seat with regards to the handlebar allows restful arm positioning and adequate leg spacing.
Overall Experience
Pride Victory 10 runs pretty fast on flat terrains. It easily scales from the minimum 5 kph to the maximum speed of 15 or 18 kph. I felt a bit of shaking while sitting on the seat.
The wheels are small and fail to dissipate shocks. I think this might be the cause.
Charging is the same as other mobility scooters. You'll have to plug Pride Victory 10 for 2-4 hours before its battery gets full. Even so, this isn't an issue because the batteries don't drain quickly.
The handlebar feels wonderful on the hands. Due to its design, the arms may engage in various comfortable positions. I even discovered that it can be tilted 70 or 90 degrees backward for better reach.
Other users commended this product's speedy performance which I also think is its strongest quality.
Pride Victory 10 Tri-Wheel Scooter QuickLook
Pros
very attractive unisex design
innovative handlebar build
speedy mobility scooter
extensive seat and backrest padding
Cons
lacks suspensions
the wheels are too low profile
Alternatives
iliving V8 Foldable Mobility Scooter – mobility scooter with a portable design
Also Popular:
➡️ Best Battery Operated Ride On Cars For Kids
---
2. Travel Pro Premium 3 Mobility Scooter

---
Foldability is a common feature in the mobility scooter department. But how about those that can be disassembled? Well, the chances of finding one are as slim as a needle's thread.
Mobility scooters that can be disassembled are more versatile than foldable ones. For instance, you can separate each piece for easier storage. You can also do the same for easier transport especially if the car's compartment is very tight.
The Travel Pro Premium 3 is a wonderful example of a mobility scooter that can be disassembled. All the parts are light so that combining them can be done without tools. Furthermore, each of the parts is easier to maintain or repair when not combined.
Personal Experience
The cruising performance of the mobility scooter is great. It's very stable on concrete pavements and lawns.
Also, I tried riding this on a short uphill and found out that speed decreases a little bit but doesn't lead to an unbearably slow ride.
The sitting position is good too. The faux leather seat is very comfortable on the torso. Furthermore, it's adjustable so that I can adjust my arms concerning the height of the handlebar.
I'm a bit concerned about the wheels. I wish that the manufacturers made them better. A better design would be to copy the wheels of a buggy, not necessarily big but more robust and suitable for rocky or sandy terrains.
Other users find this product great. However, they're concerned about the loss of stability when the seat is set too high.
Pros and Cons of Travel Pro Premium 3
Pros
Can be disassembled
Paces at walking speed
Comfortable faux leather seat
Cons
Prone to tipping if you adjust the seat to a high position
Alternatives
Vive Mobility Scooter – a mobility scooter with a well-designed control panel for accessing smart functions such as warning sound, headlights, and forward/reverse functions.
Shoprider Echo 3 – a mobility scooter with a slimmer design than the Travel Pro 3 Mobility Scooter
---
3. Atto Folding Mobility Scooter

---
I wouldn't rebut if you say that mobility scooters aren't that attractive. Most come with very straightforward designs because, if you think about it, too many fancy elements will make them heavy and unusable.
With that being said, the classic designs of mobility scooters are somehow old looking and outdated. That's why the elderly who cares about looks isn't keen to ride.
If the rider is picky, the Atto Folding Mobility Scooter is a viable option. This mobility scooter looks very sporty with its graphics embedded plastic panels that cover the handlebar, the back portion of the seat, and the feet platform as well.
Personal Experience
If I am to describe this product without being very wordy, I'll say that this one borrows the look of kids' electric scooters. I love how Atto Folding Mobility Scooter looks futuristic without compromising ease of use and efficiency.
This product runs well on any surface due to the robust yet slim wheels. However, I had to be careful when riding this on the muddy ground because the wheels tend to slip and get stuck in the mud.
Also, I had to be careful not to throttle hard because the motor makes a funny sound when forced.
Atto is an airline approved mobility scooter. So basically, this is what you need if you have an elderly going on a vacation with you.
Folding is quick to do and the folded size isn't bulky.
For other users, the airline approved feature is a plus for this product. Some already carried this abroad and said that it didn't give trouble to the airline and immigration.
Pros and Cons of Atto Mobility Scooter
Pros
Sporty and futuristic design
Foldable and airline approved
Usable in any terrain
Cons
Doesn't fare well on wet ground
Alternatives
Wisging Mobility Scooter C09B – a folding mobility scooter with a durable and energy-efficient battery
Also Popular:
➡️ Best TVs With Built-In DVD Player
---
4. Pride Go Sport 3 Mobility Scooter

---
One factor that drastically affects the performance of mobility scooters is weight capacity. Though most boast trusty electric motors and frames, only a few can have the capacity to carry large riders.
Be that as it may, finding an electric scooter for big guys might take some time.
You're very fortunate because I found an electric scooter that doesn't only look good but also has a hefty weight capacity. Try the Pride Go Sport 3. This product's weight capacity is an astounding 300 pounds.
That being said, this might be what big riders need.
Personal Experience
I invited my obese buddy who's close to 300 pounds to try this product. I was a bit worried that the seat tube won't hold because it's construction is off. However, my impression was wrong.
The seat tube holds well. Furthermore, it doesn't creak nor is the seat that it supports.
The design of the handlebar is quite good. It allowed my friend to drive with one arm only so that his other arm can rest on the handlebar comfortably.
There's also a lot of power in the electric motor. I don't see that it runs very fast. However, it displays a consistent torque even if the rider bears a lot of weight.
As for other users, they say that this product is great for those who are looking for frame strength and electric motor torque when buying a mobility scooter.
Pros and Cons of Pride Go Sport 3 Mobility Scooter
Pros
Has an excellent weight capacity
Heavy-duty frame and electric motor
Changeable panels
Cons
Not a speedy mobility scooter
Alternatives
Go Go Ultra Mobility Scooter – has a lighter build than this Pride Go Sport 3
---
5. Drive Medical Spitfire Mobility Scooter

---
Another thing that's good to note when looking for mobility scooters is clearance. The least that you want is a scooter that has a very low profile and scratches easily against rocks and bumps on the road.
Always pick a scooter with high clearance because it will let you go anywhere without worrying about the terrain.
In terms of high clearance, a good example is Drive Medical Spitfire Mobility Scooter. This scooter has small wheels yet stands high against the ground.
Furthermore, its legroom is quite good and allows comfortable feet positioning.
Due to this, this product is very ideal for people who are suffering from major foot conditions.
Personal Experience
The Drive Medical Spitfire is what I call a very "balanced" mobility scooter. Though I find it unattractive, this product's build is very light and compact.
Therefore, putting it inside my fan is very easy and can be done without anyone's help.
The battery and the electric motor go perfectly. Getting hot is a thing that doesn't happen to the battery even if the electric motor is in full throttle.
On the other hand, the motor doesn't consume a lot of battery and allows for minimum charging.
Stability is quite good too. But I wonder why other users don't find this product not very stable. As for me, stability wasn't an issue while riding.
I rode in different terrains and this product didn't display wobbles even if there are no suspensions.
Pros and Cons of Drive Medical Spitfire Mobility Scooter
Pros
a well-rounded mobility scooter
easy to load to a vehicle
Cons
has a very plain appearance
Alternatives
Drive Medical Spitfire Pro – comes with extendable batteries and 5 interchangeable panels
Also Popular:
➡️ Best 3 Wheel Electric Scooter for Kids
---
6. eWheels Recreational Mobility Scooter

---
The eWheels recreational mobility scooter is ready to satisfy the need for a fancy ride. This product goes toe to toe with the conventional motorcycles at present.
eWheels is a great recreational scooter for exploring beaches, parks, and festivals. It has the basic features of mobility scooters plus advanced functions like large brakes, large pneumatic wheels, a loud horn, a large headlight, and signal lights.
Personal Experience
eWheels goes fast compared to other mobility scooters on this list. It runs for more than 10 mph. Speedy riding isn't a problem because the wheels are designed for such a purpose. There are even suspensions that maximize stability.
I love the fact that steering is responsive. The wide steering angle makes this product great even if it doesn't have a reverse function for maximizing directional control.
Due to its realistic motor design, other users claim that this product serves as a commuter mobility scooter for those who live near their workplace.
Pros and Cons of eWheels Recreational Mobility Scooter
Pros
Realistic motor design and functions
High-speed electric motor
Trusty headlights
Great as a commuter mobility scooter
Cons
The seat isn't comfortable and hurts the back
Alternative(s)
eWheels Senior Mobility Scooter – has a better seat design and comes in a more vibrant orange finish
---
7. Knee Rover Jr Mobility Kickscooter

---
The Knee Rover is unique to other mobility scooters on this list because it doesn't have an electric motor. Nevertheless, not having an electric motor isn't a bad thing.
For instance, this product is perfect for users who are advised to train their legs after an injury. And for doing so, none could support them better than Knee Rover Kickscooter.
By the way, this product is also great for kids. This one does well as a makeshift bike for training kids on the basics of driving.
Personal Experience
This product cruises along flat concrete pavements. It runs along with a slight push of the feet.
The pneumatic wheels prevent a lot of shock from reaching the robust tube. As a result, riding happens without any problems.
Again, the absence of the motor isn't an issue. This is a product that's designed for training the legs after surgery.
This product's sit allows for a sitting position that centers on the leg's power. I rode this for some time and my legs didn't cramp as I was riding.
Other users commend this product's trusty build. The bars are very robust and have a coating that doesn't peel easily.
Pros and Cons of KneeRover Jr Mobility Kickscooter
Pros
Can be disassembled for easier maintenance and storage
Great product for exercising the legs
Doesn't have electronic functions and is not prone to electrocuting the rider
Cons
The brakes aren't very responsive
Alternatives
There are no similar products to this product yet.
Also Popular:
➡️ Best Wireless Mouse For Carpal Tunnel
---
Conclusi0n
To end, try using mobility scooters if you're suffering from problems that impair movement. Avoid straining yourself too much.
Remember that dealing with mobility health issues doesn't happen overnight.
Take it slow and use mobility scooters if you can't manage anymore.
And if you're wondering what's best for you, know that I already presented the products that you'll ever need.