Gadgets Review Guide is a participant in the Amazon Services LLC Associates Program, an affiliate advertising program designed to provide a means for sites to earn advertising fees by advertising and linking to Amazon.com. This post contains affiliate links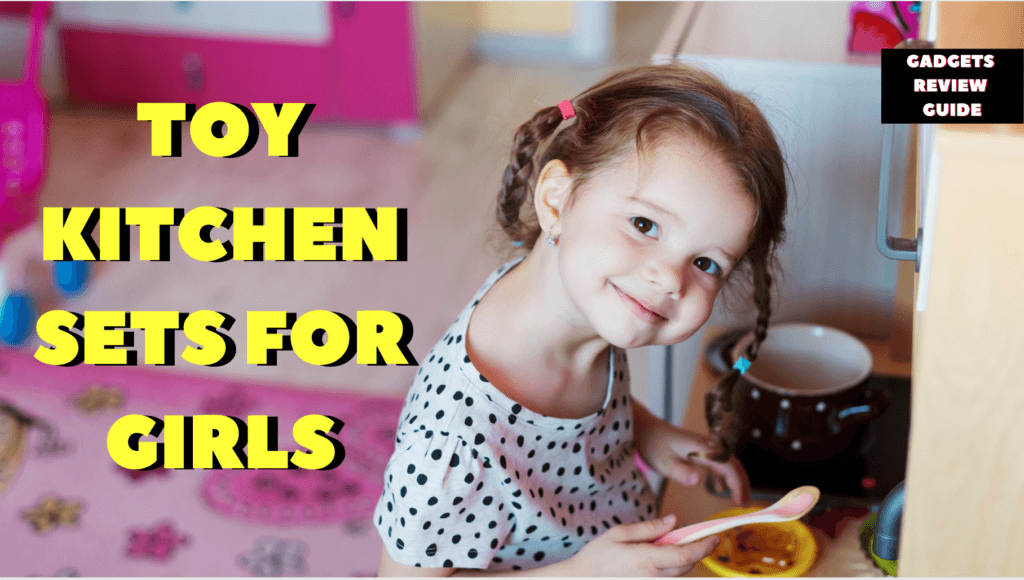 Best Toy Kitchen Sets For Girls (2022)
Children typically have a variety of different tastes in their toys.
Regardless of gender, some may prefer playsets whereas some may have a preference for toolsets.
In the end, the toys that might catch your child's eye most can depend entirely on what your child likes most in a toy.
If you've got a daughter you're raising and you aren't too sure of what you can gift her, why not consider a toy kitchen playset for girls?
Young girls may not necessarily find enjoyment in household work; even so, they may raise her head and look up to everything their parents do regardless of whether it's outside or indoors!
As a cute toy set that can be used to introduce your daughter to taking care of herself, a kitchen playset is a must!
If your daughter's eyes light up at the idea of cooking, baking, or anything involving culinary skills, here is a list of the top 7 best toy kitchen sets for girls!
---
Another popular article:
➡️ 7 BEST Toy Cash Register with Microphone
---
7 Best Toy Kitchen Sets For Girls
---
1. Step2 Grand Walk-In Kitchen & Grill

Overview
At the start of this list is a walk-in kitchen created by Step2.
Featured in this kitchen playset are several aspects that form together to create an excellent set for kids.
The set includes different appliances, a grill, an oven, cabinets, a microwave, and many other pieces you'd hope to find in the kitchen of your dreams!
Other neat features found in this playset by Step2 are the lights and sounds for the stovetop and grill.
Although this playset isn't as "girly" as others may be, its layout carries an elegant and realistic appearance.
If you're after something a bit more realistic while being filled with different activities, this is absolutely a great toy to consider!
For its materials, this set makes use of plastic.
Included in this playset are 103 pieces which include the cooking appliances, toy food, toy utensils, and toy cookware.
For the age range, it's recommended that your child be at least 2-years-old.
Overall Experience
As noted in the product's overview, this playset comes with quite a few amenities.
Ranging from a grill to a sink to – of course – a refrigerator, there's quite a bit to love in this set.
Utility-wise, it's a great choice for a toy kitchen playset.
Then comes along the setup process!
While the setup isn't too much trouble, it can certainly be a bit time-consuming because of all the parts.
Needless to say, it can also be a bit tedious because the accessories (such as the food and condiments) that came with the set don't always want to necessarily stay put away.
Despite the more troublesome parts of this setup, however, this is still a set worth consideration.
It's kid-friendly so long as your child is old enough to use it.
Pros & Cons
Pros
Comes with numerous utilities, cookware, and toy food
Kid-friendly (as long as your child is old enough to use it!)
Realistic in design, which is a nice choice to pick from among kitchen playsets!
Cons
The shelves and cabinets may not be the best for storing the products that come with the playset
Alternative(s)
The toys that are perfect alternatives to this Step2 playset are those that are a bit more realistic or have a similar number of features.
Little Tikes Kitchen & Restaraunt…
Step2 Fun with Friends Kitchen…
Step2 Heart of the Home Kitchen Playset…
---
2. Melissa & Doug Chef's Kitchen

Overview
Entering as the second item on this list is the Melissa & Doug's Chef's Kitchen set.
This playset is more compact in its appearance and cute with its design.
For this playset, it features an oven, sink, refrigerator, microwave, and stovetop!
The refrigerator also features an ice maker that can dispense ice cubes.
The set also features a moving faucet, storage, and illustrated instructions to put everything together.
If your aim is for a kitchen playset that's cuter but also more simple than the previous set, this one is a nice choice to look into purchasing.
This Melissa & Doug kitchen playset is mostly made of wood.
Smaller parts of the set (such as the sink and knobs on the stove) are made of plastic material.
Your child should be a little over 2-years-old before letting them play with this set.
Overall Experience
To start with, the number one question is this: would you want wooden materials for your child's playset?
Some would say yes, others would disagree.
While the wooden materials of the set look nice and are lovely to look at, they aren't always the most durable.
On the plus side, this playset's instructions are very clear-cut and easy to assemble.
When it comes to the directions, it's all fairly straightforward.
On the not-so-positive aspect of things, this playset is more limited; that is, there aren't as many things to do with the set.
Although this toy set is beautiful to look at, it doesn't come with toy pots and pans like others may.
To summarize, this is a nice and lovely playset. It's an easy piece to put together and is pretty simple in design.
The biggest negative aspects would have to be about material durability and the lack of pots and pans.
Pros & Cons
Pros
Very pretty playset; cute and simple!
Features a fridge, stove, oven, sink, and microwave
Cons
The wooden material may not be durable depending on how your child treats it
Pots and pans are not included with the playset
Alternative(s)
Any alternative sets below are pretty to see and wooden in the materials.
KIDDERY TOYS Play Kitchen for Toddlers…
---
3. Step2 Fun with Friends Kitchen

Overview
Making its way back into this list is another kitchen playset by Step2!
This set is more cutesy than its predecessor but just as busy in its complexity.
If you're on the fence about this colorful playset, it's got quite a few features up its sleeve!
Included in this playset is quite a bit of storage space, a stovetop with a spot to display your smartphone, a coffee machine, and everyday appliances such as a refrigerator, microwave, oven, and sink.
It also features lights and sounds when "cooking."
As another plus (and part of the storage), the set also features hooks to hang cooking utensils and dishware.
You may even want to have your pet puppy get involved with cooking as well, as the set features an area for their food and water below the kitchen.
This set, much like the previous Step2 set, is made of plastic material.
The set comes with quite a bit, as it includes 45-pieces of kitchen accessories.
If this toy is one you're interested in, your child should be at least 2-years-old before playing with this set.
Overall Experience
Overall, this playset is an awesome kitchen set through-and-through.
Assembly is simple enough because the pieces are large and the process should be mostly easy.
Although there aren't holes for screws, the pieces have marks of where screws should go.
As a plus, this set comes with a lot of stuff.
If you're worried that your child will run out of stuff to do, have no fear!
Although this isn't as large as the first Step2 set, it's got quite a bit going on with what it does have.
This is a set worth the recommendation.
The only real negative parts about it are how cluttered it can get.
Pros & Cons
Pros
It has quite a few aspects!
Comes with several accessories for the kitchen
Cute colors and overall look
Cons
Because of all the stuff, it might be a bit cluttered
Alternative(s)
Step2 offers quite a few kitchen playsets to choose from!
Step2 Great Gourmet Kitchen…
Other Popular Review: ➡️ Best Toy Semi Trucks With Trailers
---
4. KidKraft Grand Gourmet Corner Kitchen

Overview
At the fourth spot on the list, you've got a kitchen set brought to you by KidKraft.
Although it's more than cute, this kitchen set manages to look realistic with its fridge, microwave, oven, stove, and sink.
It even brings in curtains for an imaginary window, hanging hooks, and a washer!
As a cute detail, the refrigerator also comes with a small chalkboard as well.
The set also includes metal accessories.
The instructions for this set aren't too difficult to understand.
The set does, however, feature a large number of pieces to put together.
This KidKraft set is made up of MDF wood, plastic, and fabric.
It's meant for kids that are at least 2-years-old.
Overall Experience
This is a beautifully realistic kitchen set that manages to make itself look very cute in the long run.
It's colorful and vibrant. The different utilities of the set are also a great touch, as it leaves quite a bit for your child to do while playing in this small kitchen!
The different materials also help give this kitchen a more realistic feel.
A nice inclusion is the metal cookware that comes with the set.
Sadly, this set is also very small. If your child is a growing one, they may very well tower over it.
That isn't the only negative aspect of this toy either.
Even though the instructions are detailed, the set manages to squeeze in quite a few pieces, which makes it very time-consuming to put together.
Pros & Cons
Pros
Very cute and colorful!
Realistic kitchen design with hanging hooks and small curtains
Cons
Small in size
Extremely tedious to put together because of all of its small parts
Alternative(s)
Cute or realistic playsets both work wonderfully as possible alternatives to this KidKraft set.
Step2 Fun with Friends Kitchen…
---
5. Costzon Kids Kitchen Playset, Wooden Cookware

Overview
With intricate and adorable details embellishing the surfaces of this kitchen set, the Costzon brand enters with quite a few pieces and facets.
Different parts of this set are its stove, cookware, sink, utensils, oven, and storage spaces!
The instructions included with the parts to this set are also intended to be easy to understand.
The Costzon kitchen playset is mostly made up of wood.
It's recommended that your child be at least 2-years-old before using this set.
Overall Experience
Of all the sets in this list, this one is one of the cutest.
It has the smallest of details that manage to seal the deal on being cute but simple in the layout it has.
Although it isn't too large of a set, it comes with a decent amount of storage for the cookware or anything else you'd like to store away.
The size of the set isn't too tall either, which can be a plus or a negative depending on what it is you're wanting out of a kitchen set.
While the wood is a nice touch for the set, the durability is an issue with parts of it, such as its door handles.
Assembly can also be a bit of a chore due to all the small parts (although the instructions are simple enough).
Still, the set is very cute!
Pros & Cons
Pros
Extremely cute!
Simple and multi-functional
Comes with a good amount of storage space
Features pots and a kettle with the set
Cons
The set is wooden, which can make or break it depending on what you want in a set
Alternative(s)
Costzon has another kitchen playset that's simple and sweet like their other aforementioned one!
Costzon Kids Kitchen Playset (with Top Display Shelf)…
---
6. KidKraft Vintage Play Kitchen

Overview
Vibrant with its color and sleek in the way the pieces come together, this KidKraft playset is the sixth item on the list!
It comes with a bit of a vintage look and several parts.
Included in this set are a fridge, sink, stovetop, oven, microwave, and storage cabinet.
This isn't even including the small, cordless phone hanging on the side of the fridge!
The sink bowl is removable to be cleaned as necessary.
Although this set comes with quite a bit, it does not include pots, pans, or other cookware.
The assembly is – like others in this list – not too difficult but is time-consuming due to the number of parts.
Like the considerable amount of other kitchen sets, it's mostly made of wood.
Like others on the list, it's recommended that your child be at least 2-years-old.
Overall Experience
The layout of this playset is super smooth and it for sure falls under the vintage category.
It's hard to find a kitchen set that looks like it; it has a classic look to it that is hard to come across!
The colors are bright and its appearance alone should be enough to warrant its spot in this list.
Sadly, all good things likely have some sort of flaw.
For this KidKraft kitchen, it's two things: the wood that can get damaged if played with roughly and the size.
This is a very small set (although the same can be said about others in this list) and it limits how tall your child can be to appreciate the ins and outs of the entire design.
Even though this set is wonderfully crafted in how it looks, its sturdiness can leave quite a bit to be desired.
Pros & Cons
Pros
Super nice design that manages to look retro and vintage
Comes with quite a bit of room in a compact way
Cons
Very small, much like other toy kitchen sets
Wooden material that may not be very sturdy
Any cookware or dishware needs to be bought separately
Alternative(s)
Even though vintage or retro kitchens are hard to find, KidKraft has your back on having at least a similar enough backup option!
KidKraft Retro Kitchen and Refrigerator…
Other Popular Review: ➡️ Best Kids Makeup Vanity Sets
---
7. KidKraft Deluxe Big & Bright Kitchen

Overview
KidKraft finalizes this list with a colorful set that's bright and pleasant.
It comes with a microwave, oven, fridge, hooks for hanging utensils, and sink!
This kitchen makes itself look appealing with its modern, yet classic aesthetic.
The set itself is also fairly tall compared to others.
Thankfully, the instructions provided with this set are easy enough to understand.
Due to its size and the number of pieces, however, putting this together is no walk in the park.
As with other playsets and the previous KidKraft set, this one is made of wood, claiming to be sturdily put together.
Overall Experience
One of the best things about this mini kitchen is the overall size.
Even though it's a child's toy, it's big enough that more than one small individual can stand at the counters (about two or three kids at the most).
This makes it great for group activity if your child has company over or if siblings want to take part in the imaginary culinary fun!
Onto the quality of the toy! This one is made up of mostly wooden parts.
The wood isn't extremely sturdy but should be of decent enough quality for children.
It's a fairly well-made set.
The instructions, while not being too complicated, can be hard to understand if the pieces aren't properly mapped out.
The screws aren't labeled very well and being too rough with them (with a drill, for example) can lead to possibly breaking the materials of this set.
Lastly, the set doesn't come with any toy food if your little chef is wanting to prep food for the family!
Pros & Cons
Pros
Bright, vibrant kitchen set!
Comes with various appliances
Larger in size compared to other playsets
Cons
Doesn't come with any toy food
While not always a bad thing, the wood material may not be as sturdy as it says
Very time-consuming to put together
Alternative(s)
KidKraft offers an Espresso kitchen with a bit more of an elegant feel but very similar in the overall layout to this set.
KidKraft Uptown Espresso Kitchen…
---
Conclusion
While you're likely looking for the best toy for your daughter, it can a bit difficult to find the perfect option available.
Kitchen playsets, while just one option out of many, are a great choice for young girls.
Although some girls may grow up to want to become mothers or to care for other people, other girls may simply want to learn to become more independent and self-reliant.
Regardless of their reasons, these are sets that can be a great introduction to just about anyone.
The next time you're unsure of where to turn or what to get for a young girl as a gift, consider getting her a kitchen set.
Even though it might be hard to know what she likes in a toy, you can never go wrong with letting someone learn how to cook food!
Even if that food may be imaginary or plastic 🙂