Gadgets Review Guide is a participant in the Amazon Services LLC Associates Program, an affiliate advertising program designed to provide a means for sites to earn advertising fees by advertising and linking to Amazon.com. This post contains affiliate links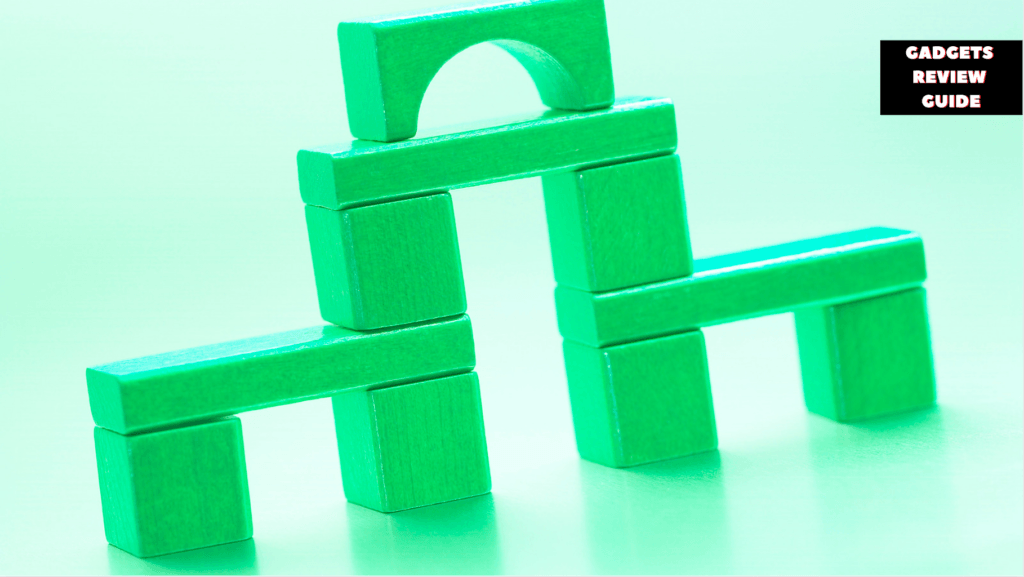 Large Foam Building Blocks For Kids
As a core part of growing up, toy building blocks are a structural and important toy numerous children can make use of.
Rather than hardened blocks that you may expect for kids, however, foam building blocks are softer and more rounded in their shapes.
Because of this, they end up being a great alternative to, say, wooden building blocks.
Although the foam material may come across as not very durable and hard to stack, these building blocks are stronger than they look…
..in fact, the only thing truly differentiating them from toys like wooden blocks is simply their texture and material.
Since they're a great place to start when you're out searching for a toy or playset for kids, this list will make things noticeably easier for you as a buyer.
Reviewed on this list are the top 7 best large foam building blocks for kids!
---
Best Large Foam Building Blocks For Kids
---
1. Costzon Soft Blocks (12pcs)

Overview
Costzon is a brand you may be well-acquainted with for kids' products. They typically make a variety of different kids' toys and they're also in the ring for foam blocks!
These blocks are designed with multiple colors to create a rainbow of cubes. The foam blocks themselves are covered with a PVC leather material over the foam.
This means if you're the type to have to clean up after your little ones, the PVC surface makes the process quite a bit easier to do.
If you're interested in going for the Costzon Soft Blocks set, they're recommended for kids that are one year old or older.
Overall Experience
Despite the high and intimidating price for these blocks, they're certainly made of a higher quality than you'd expect.
The foam inside the block is dense and won't give under quite a bit of pressure, which makes them nice and sturdy for "building."
If you've got younger children, these are a great investment for sure, as they're not only safe but the leather covering on each block makes clean-up less of a hassle and the soft material can keep things fairly quiet when the blocks fall.
Pros & Cons
Pros
Colorful and simple blocks
The leather material makes clean-up a breeze
The foam is sturdy under a child's weight so it should maintain its shape
Cons
The price certainly isn't cheap for these kinds of blocks, which can hurt tight budgets
Alternative(s)
You can come across fairly similar choices to the Costzon blocks so long as you're searching the right places!
An option already within this list, for example, is the Weizzer Toys set of blocks.
If you're wanting more than 12 blocks under the Costzon label, there's a 24-block version you can purchase as well.
Weizzer Toys Memory Foam Building Blocks (7pcs)
ECR4Kids SoftZone Foam Big Building Blocks (7pcs)
Costzon Soft Blocks (24pcs)
---
2. Playlearn Foam Building Blocks (20pcs)

Overview
The Playlearn Foam Building Blocks come in a set of rectangular blocks modeled after cinder blocks.
Of course, rather than being real concrete blocks, they're – as noted in the title – made of foam to help your kids become little construction workers!
The cinder blocks are made with EVA (or ethylene-vinyl acetate) foam for their material.
Their unique design makes these blocks a fun way for your child to find entertainment while also understanding the way cinder blocks function.
While Playlearn USA doesn't write what age range these blocks are intended for, their foam material makes them a safe choice for younger children as well.
Overall Experience
To start with, these are cute, creative block ideas that can bring out the imagination of your little construction worker.
While they're sturdy enough on their own and are great at maintaining their block shape, the foam isn't so thick that it wouldn't bend under pressure.
What makes these blocks even better, however, is if you can pair them up with a foam wood set (so long as the lumber can fit into the gaps of the blocks).
An important part worth noting, however, is that while these are great foam building blocks, they aren't the size of real cinder blocks; they're closer to being the size of bricks.
Despite this, children who love building structures are likely to love them regardless, as they'd be small enough for a child to find enjoyment from them.
Pros & Cons
Pros
Well-made foam blocks in an interesting design
The blocks should maintain their shape fairly well
Cons
If you're expecting something life-sized, these blocks certainly aren't that large
While they're nice building blocks, the price is very steep for what you're given
Alternative(s)
Although not every foam block set is designed the same way, a notable amount uses a similar idea of modeling the blocks after bricks.
Of course, another alternative is simply a set of the same blocks but in different quantities.
Playlearn Foam Building Blocks (40pcs)
Playlearn Foam Brick Building Blocks (50pcs)
---
3. Number 1 in Gadgets Foam Building Blocks (50 pcs)

Overview
Designed similarly to the Costzon foam blocks, the Number 1 in Gadgets foam blocks are vibrantly colorful cubes and rectangles made up of memory foam.
This set includes square blocks, rectangular blocks, and an extra-large block.
These blocks feature a soft leather polyurethane covering, which helps immensely in the cleaning process if you've got kids that love getting messy!
The recommended age range from the manufacturer is for kids 24 months and up.
Overall Experience
Designed as simple blocks, these colorful creations are much like the Costzon blocks reviewed before them.
Their materials and durability are also a lot like the Costzon blocks.
If you're interested in a different set of large foam building blocks on the market, these are certainly an excellent choice worth considering.
It's also a nice cherry on top to remember that the blocks vary in size. This gives your child cubes and rectangles to pick from when stacking them together.
Pros & Cons
Pros
While the blocks more-or-less function the same, these are different shapes from your typical squares and cubes
Sturdy foam material
Like for the other blocks, the leather covering is nice for cleaning them
Cons
Customers have complained that it has a bad chemical smell
Alternative(s)
Much like the COSTZON and ECR4Kids brands, the Number 1 in Gadgets blocks are more straightforward in their overall image.
For alternatives to these blocks, perfect choices are already listed with them!
Costzon Soft Blocks (12pcs)
ECR4Kids SoftZone Foam Big Building Blocks (7pcs)
---
4. Playlearn Foam Brick Building Blocks (50pcs)

Overview
They're brick-like in their design and are perfect for the little builder going to town on putting together their imaginary structures!
These foam blocks – also by Playlearn – are meant to resemble bricks you may see lining the walls of certain buildings.
For these foam blocks, they're perfect for your child to hop into the role of being an architect or construction worker as they run amok with their imagination.
Much like the other set of Playlearn blocks, these blocks don't provide an age recommendation for how old your child should be before playing with them.
Regardless, the gentle foam material of the blocks makes them a great match for even smaller kids.
Overall Experience
Here comes Playlearn once again with another building block set. This time, these foam blocks are modeled after bricks you can find on countless buildings!
In terms of accuracy, they're closer to being the size of real bricks compared to the cinder block set.
The foam material is about a sturdy as what was found with the cinder block building blocks; that is, well-made but certainly not so thick it wouldn't cave under some pressure.
If you're wanting something a bit more realistic for building blocks, these are a great choice to decide on.
Pros & Cons
Pros
Realistic design for building blocks while being about the same size as bricks
Quality blocks that don't lose their shape
Cons
You've done this song and dance before; the blocks are expensive for what they provide
Alternative(s)
Like the previously-listed Playlearn block set, its closest backup choice is the set also by the same brand; alternatively, you may choose the pack with a different number of pieces.
Playlearn Foam Building Blocks (20pcs)
Playlearn Foam Brick Building Blocks (25pcs)
---
5. ECR4Kids SoftZone Foam Big Building Blocks (7pcs)

Overview
With varying pigments depending on the choice of blocks you pick, the ECR4Kids foam building blocks are made of dense foam and covered in the soft leather casing.
The blocks vary in size, ranging from being square-shaped to rectangular.
All-in-all, these blocks are notably like the Costzon and Weizzer Toys blocks also listed; if you're aiming for a set of building blocks soft and protected with leather material, this set is one of the many choices that may be up your alley.
If you're worried about how old your child should be when playing with these blocks, they were designed for kids that are 9-months-old or older.
Overall Experience
These blocks are the largest like them thus far (although it's not by much). They're made of a thick and dense foam that holds weight pretty well.
The pigments for these blocks often vary depending on what the brand provides but for the most part, the ECR4Kids building blocks are very colorful as well.
The price is high (which is what you might expect for foam blocks in general) but they're a safe choice for kids who love stacking their toys.
Like with other blocks like them, they're a great choice if you're not wanting loud crashing sounds when they hit the floor.
It's also important to remember how the leather outside of these toys makes them easier to clean up at the end of a play day.
Pros & Cons
Pros
Blocks like these are easy to clean, durable, and colorful on the eyes
Cons
Unfortunately, blocks like these are also fairly expensive as well
Alternative(s)
You're likely already used to what would be decent options if you aren't quite interested in this brand!
That being said, the Weizzer Toys or Costzon blocks are certainly decent choices up for consideration.
Costzon Soft Blocks (12pcs)
Weizzer Toys Memory Foam Building Blocks (7pcs)
---
6. Dream Tree Tetris 3D Puzzle Blocks (12pcs)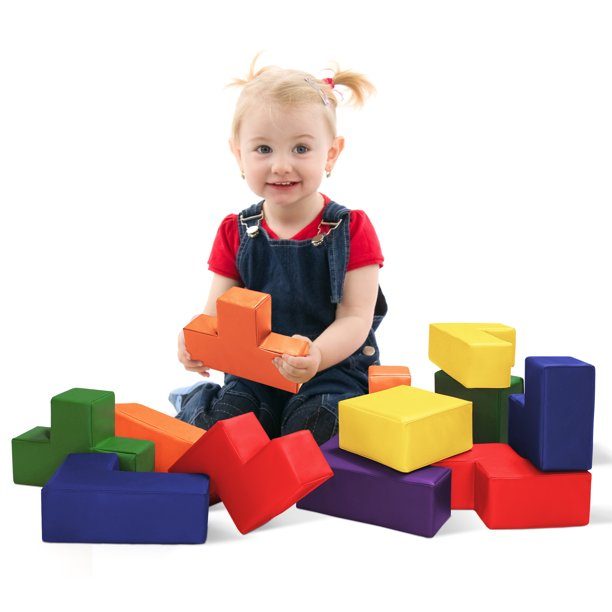 Overview
If you have a love for games and the classic game era, then these blocks are a perfect starting point for sharing your hobbies and interests with your little ones.
These foam blocks are modeled after Tetris pieces; that is, angled and unique shapes that are designed to fit together when stacked or aligned properly.
From simply a square to various shapes and designs, the only thing holding back your child is their imagination (and maybe their smaller size as a child if they're younger).
Covering the blocks is a faux leather material, which – as you know by now – is a great fix for preventing messes from staining the blocks.
The main audience for these building blocks are children 3-months-old to 15-months-old.
Overall Experience
Where to start with these blocks?
They're vibrant, protected in leather (much like your cubed blocks above), and come in fun shapes reminiscent of those found in a classic console and tabletop game.
These Dream Tree building blocks are designed with similar materials as those found in your more straightforward blocks listed above.
Another great aspect of these blocks is the fact that they help with your child's knowledge and understanding of putting pieces together like a giant puzzle (as Tetris games do as well!).
These are a wonderful choice purely for their multi-functional purpose as building blocks.
Pros & Cons
Pros
Colorful and lovely blocks
Like other blocks with similar materials, the foam is sturdy and the leather is a nice add-on for cleaning
A fun way to learn while also allowing kids to stack their toys as they often do!
Cons
The biggest flaw for blocks made of this material (or of foam in general) is their cost
Alternative(s)
Perhaps you aren't wanting something too crazy as a set of foam blocks for your child.
Although there are similar picks from this list, Dream Tree offers simpler building blocks made of foam as well as the uniquely-shaped Tetris set.
Dream Tree Building Blocks (8pcs)
---
7. Edushape Big Edu-Color Blocks (32pcs)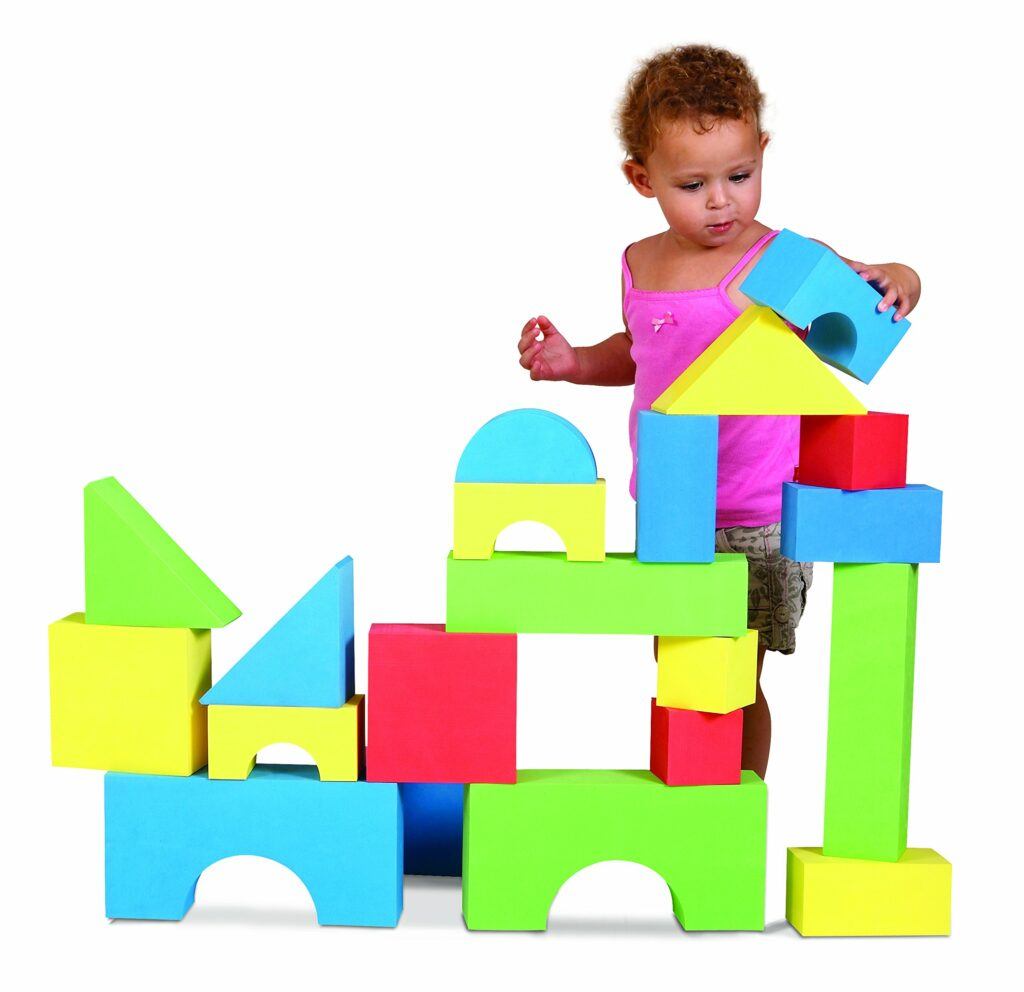 Overview
For the final recommendation on this list of the best large foam building blocks, you've got the Edushape foam blocks. These blocks are a colorful bundle of different shapes and sizes.
For what you expect when you hear "building blocks," these blocks are likely a bit closer to what you'd expect due to their varying shapes.
Because of this, these are a great choice if you're wanting to gift your child a more traditional building block set (albeit on the more soft and safe side).
Keep in mind that if you're considering this set, they're meant for children at least 9-months-old.
Overall Experience
For the most part, these blocks are decently sized. However, these blocks still aren't as large as other foam building blocks listed with them.
What they do have though is a set of unique shapes and several different parts that are closer to what you'd expect in a child's building block playset.
The pieces range in their colors and are great for children to stack without hurting themselves.
Unfortunately, their cuts can vary and you may be met with pieces that don't properly fit together since they're made of foam.
Regardless, they are still a good choice if you're wanting to get a set that functions similarly enough to your more traditional and smaller building block set.
Pros & Cons
Pros
A more traditional set of building blocks
Their colors are nice and have a nice variety
Cons
Keep in mind the possibility of them being cut unevenly because of their material
As always, the price is a large leap for a set of blocks
Alternative(s)
Edushape's blocks are about as close as you can get to your average, smaller building blocks.
For those of you searching for something a bit more unique, however, Edushape also provides a version of these blocks with a more wood-grained effect.
Edushape Wood-like Blocks (32pcs)
---
Large Foam Building Blocks – Conclusion
All this info may be a bit overwhelming when you're trying to pick out a single toy or playset for your child.
It's important when you're breaking down the research for these types of toys that you consider what it is you think is best for the child and what they might have the most fun with!
With large blocks meant to simply stack on one another to blocks your child can fit together into various shapes and structures, large foam building blocks certainly come in all sorts of shapes and sizes.
Another nice feature of these blocks is their soft material, which is especially great for younger children so they can't hurt themselves by accident.
For those who don't want to deal with the hassle of clean-up, the faux leather casing provided on some of these blocks is also a nice feature.
Regardless of the reasons you may end up considering these as a possible gift, the next time you have to find a toy that's both fun and simple enough for more kids to like, large foam building blocks will always be a traditional and worthwhile choice to pick.