Gadgets Review Guide is a participant in the Amazon Services LLC Associates Program, an affiliate advertising program designed to provide a means for sites to earn advertising fees by advertising and linking to Amazon.com. This post contains affiliate links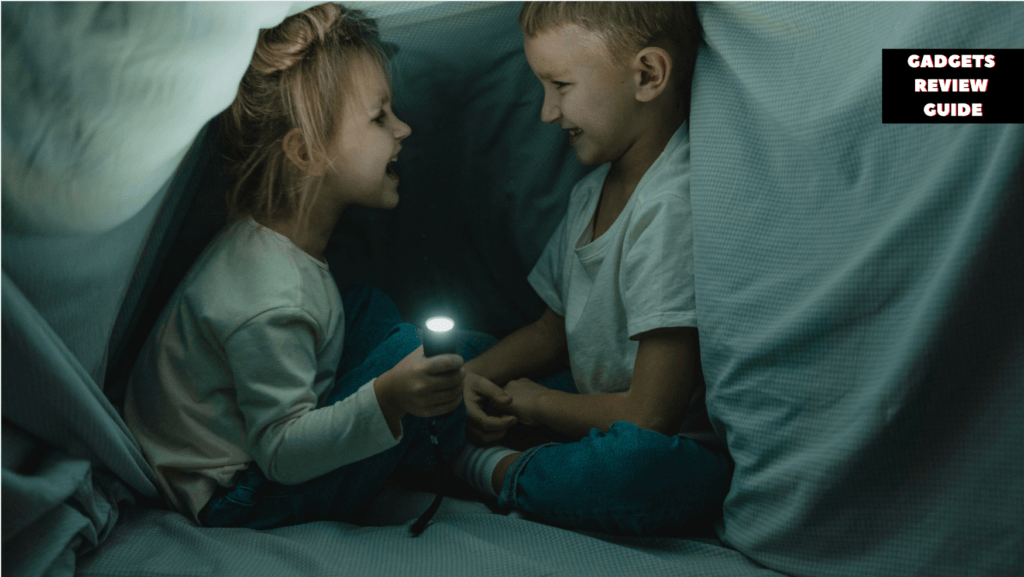 Fort Building Kits for Kids
Most things regarding childhood have changed over time; however, fort-building keeps on becoming better every day.
Children benefit more from the creative activities of building a fort, such as critical thinking, problem-solving, STEM -Science, Technology, Engineering & Mathematics, and teamwork.
Better yet, it allows kids to focus their minds on building an excellent den.
And now, with a complete building kit for kids, your child can gain the fundamental skills right at home.
Such kits come with endless possibilities, and they can be the best gifts for your little angels to learn and have fun.
But now, the market of fort-building kits for kids is highly saturated, and finding the best choice for your kid on the spot is not such an easy task.
But to make your work easier, we came up with this post. It is important to remember that there are some key factors you need to pay attention to before choosing your best fort-building kit.
The kid's age, material, durability, size & storage, and suitable environment (Indoor or Outdoor) are key factors to consider.
Fortunately, we'll include this consideration in this review; you can make a well-informed decision based on these considerations.
Without further ado, let's now get to the main thing…
Below are the best 7 fort-building kits for kids you may want to consider on your next shopping trip.
---
Also Popular:
➜ 7 Best Bridge Building Kits For Kids
---
The Best 7 Fort Building Kits Reviews (2022)
---
#7. Tiny Land Kids Fort Building Kit 130Pcs


Overview
Creatives Forts feature 44 joint balls that are child safe and 86 rods that easily twist and put the rod into balls.
It can join together to create different play structures, and that's where the kid's imagination and creativity lie.
Also, it comes with a nice carrying bag to allow the building kit to be carried just about anywhere.
If you're looking for a great and easy way of improving your child's STEM skills, this kit will indeed offer you positive results.
With this kit, kids have endless possibilities to build complex and big forts to bring fun and challenges in one basket.
The fort building kit is ideal for kids between 5 – 8 years.
Overall experience
Assembling this kit is pretty simple; kids will feel happy to put together this fun kit.
The quality also is on an A level; it doesn't come apart that easily, and the material used to make these kits is reliable.
Now the best part is the portability. Your child can move around with it in the house, even from room to room, plus it doesn't take much of your house space.
What's more, this kit is versatile; kids have different ways to build forts.
Pros & Cons
Pros
-Made using high-quality material that lasts
-Offer hours of endless fun
-It is easy to assemble
Cons
-Suitable only for kids within the 5 -8 age limit.
Alternative(s)
The best alternative for the above is by PLAYBIVE. The kit is ideal for kids above the age of 5. With 130 pieces, it enables the kid to explore endless possibilities. Also, it has quality construction, which makes it reliable and long-lasting.
-PLAYVIBE Kids Fort Building Kit 130Pcs

---
#6. OBUBY Kids Fort Building Kit 120Pcs


Overview
OBUBY kids' fort building kit includes 23 solid blue balls, 22 solid green balls, and 75 sticks to explore their building activities.
The kit is designed to suit kids aged 5+, and with the kit, they can build a pirate ship, toy tents, teepee, tunnel, princess castle, igloo, house, rocket, play tent, a cave, just to name a few.
Besides, it is made using solid and high-quality plastic material that guarantees durability and reliability.
Furthermore, it is an ideal creative toy for 2 – 4 kids to play with. As such, it sparks creativity and imagination.
Overall experience
For the price this kit is worth, kids have the possibility of building just about anything in the palm of their hands.
When kids are trying their level best to structure the shapes of the desired items, the parents should be on the lookout.
If you're looking for an arena where it can give your children imaginative playtime, you can bet on this kit; it is fun and full of creative activities.
Moreover, since it doesn't have any fabric, this kit is pretty easy to clean.
Pros & Cons
Pros
-It is fun and encourages creative thinking
-Enables close to four children to play
-It is pretty easy to use
Cons
-Sticks don't ideally stay in the balls
Alternative(s)
Suppose you're looking for the best alternative fort building kit that will not only promote creativity and imagination but also inspire and thrill them.
In that case, the KIPIPOL fort building kit for kids is the ultimate choice. Plus, it's affordable.
-Kipipol Fort Building Kit for Kids 77 Pcs

---
#5. Crazy Forts Building & Creative Toy 69Pcs


Overview
Just as its name suggests, Crazy forts fort building kit for kids offers your children some crazy way of coming up with different shapes.
This unit contains 69 pieces that are designed from high-quality plastic materials. This assures you of a solid and long-lasting fort.
Ideally, it keeps them thinking about fixing a specific shape that they love.
Not only does this improve their creative skills but also critical thinking and social skills.
This makes it an excellent gift for kids during birthdays, Christmas, holidays, and many other occasions.
Overall experience
They will always have fun whenever they come up with unique shapes. This gives them space to work on their own
Additionally, it offers them a place to build a structure of their own, which improves their thinking and motor skills.
Depending on their needs, they can build an igloo, castle, hideaway tunnel, pirate ship, and many other fun shapes.
Moreover, it has a lightweight design making it easier for children to carry it around.
Pros & Cons
Pros
-Allow kids to build anything they imagine
-It is a fun gift that is durable
-Ideal educational toy
Cons
-It is not ideal for building a structure for more than one kid
Alternative(s)
Are you looking for the best alternative for the above fort building kit? Well, Rainbow Toyfrog Building Toy will match your child's creativity needs. 
Also, the kit is suitable for children of age 3+. Besides, kids can build a big rocket, fort, tower, airplane, tunnel, bridge, and robots.
-RAINBOW TOYGROG STEM Building Toys 300Pcs

---
You may also like:
➜ The 7 BEST Roller Coaster Building Sets
---
#4. LASCOTON Upgraded Fort Building Kit 86 Pcs


Overview
Lascoton fort building kit keeps your children busy and having fun simultaneously.
This toy is best suited for those kids who would like to do some building here and there.
It helps to instill engineering skills, which will help them throughout their lives. It is suitable for use aged above three years.
This fort building is designed from high-quality and non-toxic components. With this, you kids can enjoy their game without any worries.
Moreover, it has 45 multilink and 75 connecting rods that allow kids to solve the problem together. This makes them have more fun with constructive, creative structures.
Overall experience
Children can play indoors by adding a bed sheet to make a play tent or a hideaway where they can study and play.
They can also have fun in the backyard, while out for a trip, or in any other outdoor environment.
This is because its box makes it convenient to store and carry this unit to their place of choice. They can build their fortresses at any location that they prefer.
In addition, they can build this unit all by themselves. This is because it is made from upgraded materials that are smooth and join quickly.
Also, they can easily disassemble the entire unit within a few minutes of starting overs building a fortress.
Pros & Cons
Pros
-Has clear instructions for convenient assembly
-You can use a damp cloth to wipe it clean
-Easily connects and disconnects
Cons
-Can't be used by kids under the age of 3 years
Alternative (s)
If you are looking for an alternative for this fort building kit, you can opt for this unit by Lydaz. This is appropriate for kids aged 5+.
-Lydaz Fort Building Kit for Kids 99Pcs

---
#3. HearthSong Forts Indoor Building Kit 16Panel


Overview
Are you looking forward to much fun for your little ones? The HearthSong fort building kit will always suit their needs in the best manner.
Kids can easily build this fort as much as they desire and have more fun with their friends.
Featuring sturdy construction, you do not have to worry about the safety of this toy because your kids can play without any accidents.
Additionally, the box includes five panels that allow them to create a storage device. This makes it so convenient for the storage and transport of this toy.
It comes with all that kids need to build the fort by themselves. This makes it suitable for kids of age four and above.
Overall experience
It is beneficial in improving the kids' cognitive skills. They can quickly know where the problem lies in the fort and fix it with ease.
Children can easily connect the entire fort by themselves. This makes them more independent in their life.
Furthermore, the cardboard is made from high-quality solid and durable materials.
They have varied building options thanks to the hook and loop strips that can be connected to any corner.
Pros & Cons
Pros
-Has carton clips for seamless vertical building
-Children can build this fort by themselves
-Stays solid and sturdy
Cons
-Has soft connectors that dogs can chew
Alternative(s)
Funphix fort building kit is the best alternative for the above product. It has up to 77 pieces that allow your kids to connect all the parts and have more fun.
-Funphix Fort Building Kit for Kids 77 pcs

---
Also popular:
➜ 7 BEST Woodworking Tool Sets For Kids
---
#2. Win SPORTS Fort Building Kit for Kids 77 Pcs


Overview
Win SPORTS fort building kit for kids will meet whatever their hearts desire.
The building system can never be so large or too small whenever kids build it. This makes it suitable to assemble in the living room, study room, and other places.
Since it is designed from premium quality plastic materials, you are assured of a durable unit.
They can easily create a hideaway where they can play with their friends for more memorable moments.
This makes it a perfect gift for your kids during their birthdays, Christmas, Halloween, new year, and many other special days of their lives.
Overall experience
This fort gets them so engaged. They will have a playhouse in the morning and a fort when evening comes.
Here they can improve their problem solving, critical thinking, and creativity skills.
You do not have to worry about this unit collapsing because the different parts connect perfectly.
It has up to 77 pieces; therefore, children can build a cave, tunnel, castle, toy tent, and anything they love the most.
Pros & Cons
Pros
-Allows kids to build forts of different sizes and shapes
-Made from lightweight materials, thus portable
-You can use a damp cloth to clean it
Cons
-Can break with ease if children stand on them
Alternative(s)
A good alternative for this fort building kit is this brand from Lucky Doug. It has up to 140 pieces making it ideal if you've more than one kid.
-Lucky Doug fort building kit for kids 140Pcs

---
#1. 9IUoom Fort Building Kit for Kids 120Pcs


Overview
9IUoom fort building kit for kids contains 120 different pieces that allow your kids to build a play tent, castle, or tower in both outdoor and indoor environments.
Children can play for longer hours without their fort collapsing with a sturdy frame.
With up to 120 minutes, kids can make their own choice on what kind of size or shape they want to build. This makes them self-independent.
The fact that it is made from non-toxic and hypoallergenic materials means that little ones can play safely no matter how much time they spend building this toy.
Overall experience
It is one creative toy suitable for building by more than three children. This helps them to enhance social and cooperation skills.
The included portable makes it so convenient for them to carry all the pieces to play with their friends.
After completing the fort, they can cover the top part with a throw blanket. This would look like a house for them.
Pros & Cons
Pros
-Allows them to create varied shapes such as rocket
-Doesn't take much space when assembled indoors
-Easy to assemble
Cons
-Can wobble a bit after completion
Alternative(s)
The best alternative for this kit is the Springflower fort building kit for kids.
It allows them to create different shapes apart from those offered by this brand, 9IUoom.
-Springflower Fort Building Kit for Kids

---
Conclusion
If you're on the lookout for the best idea for a kid's holiday project, you should consider one of the above fort-building kits.
Now that we've reviewed everything, including their pros and cons, you're in an excellent position to make the right buying decision without being coerced to pick what you or your child don't like.
We hope that this post has offered you helpful information that will go a long way in sharpening your skills in fort building and, even better, allow you to make a wise buying decision.
Don't hesitate to leave a comment below if you still have any concerns or an addition regarding the products we've reviewed above.