Gadgets Review Guide is a participant in the Amazon Services LLC Associates Program, an affiliate advertising program designed to provide a means for sites to earn advertising fees by advertising and linking to Amazon.com. This post contains affiliate links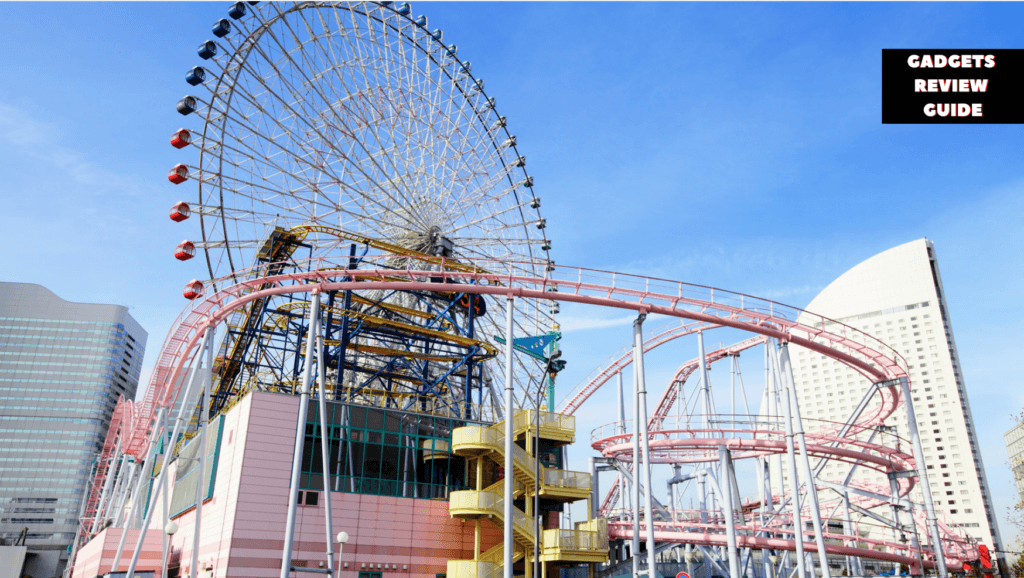 Roller Coaster Building Sets
Children have peculiar minds, and most of them are naturally attracted to any activities at a tender age. No wonder they usually want to touch anything they see around.
Now, technology has enabled all toys to be created, and a roller coaster building set is no different. These units are close simulations of real-life roller coasters.
And these roller coaster building sets aren't just for fun, but in a way, they help children in developing their critical thinking and motor skills.
Aside from that, these units can make a great gift for kids, especially for children who want to be creative and engage their brains.
Further, a roller coaster building set plays a vital role in delivering new and intricate concepts to your child.
Finding the best roller coaster building set in a saturated market today is a back-breaking task. This is because there's a range of factors you'd need to consider.
Age, budget, design, space availability, and the kid's prior knowledge are the key factors that should be considered before anything.
Fortunately, we went out of our way and did the homework for you. Now, we're here to present you with the best 7 roller coaster building sets in reviews.
Let's hit the trail!
---
Also Popular:
➜ Bridge Building Kits For Kids – TOP 7 Best List
---
The Best 7 Roller Coaster Building Sets in Reviews
---
#7. K'NEX Thrill Rides Space Invasion Roller Coaster Building Set


Overview
K'NEX Thrill Rides Roller Coaster Building set allows your child to build the kit from scratch with a simple step but with the help of a parent.
Your child can take advantage of this unit's 438 pieces and parts with a motor to set up an extremely amazing coaster.
The set includes space-themed graphics, a coaster car, and a track.
After the building is complete, find the Free K'Nex Ride it! App to interact with the 2D space invasion or, better, create a roller coaster of your own.
Lack of a virtual reality viewer? No worries, enjoy the entire app in 2D. Better still, if you've got your virtual reality viewer, you can ride using it.
Overall experience
It will take you about three hours to set up the kit but firstly, ensure to cross-check to ensure all the pieces add up to 438, lest the setup may become challenging.
Essentially, this coaster seems to suit kids seven years and above, but younger ones can use it under the watch of their older siblings or adults.
Besides, with detailed instructions, you can always follow them from step one to the last step without being confused when setting up.
Moreover, it is a perfect gift for boys and girls who want to delve into complex roller coasters and advance their motor skills.
Pros & Cons
Pros
-Setup process is easy and simple
-It offers hours of continuous fun
-Give your child a new way to interact
Cons
-The plastic clips are weak
Alternative(s)
Though the above coaster offers you the value for your money, this other option from the same brand will suit you better nine years and up.
Web Weaver Coaster is fun and educational as well. The unit comes in multicolor.
-K'NEX Thrill Rides Web Weavers Roller Coaster Building Set – 439Pcs.
---
#6. ThinkFun Roller Coaster Building Set for Kids Age 6+


Overview
ThinkFun is now one of the leading brands responsible for presenting brain games and mind-blowing puzzles with an incomparable reputation.
This coaster is ideal for developing kids' critical skills.
Also, it is one of those awesome gifts you can purchase for girls and boys of age six and up.
Whether you're thinking of the roller coaster car, game board, mind challenging cards, or post, this kit has got you covered.  
What's more, it features multi-level challenges of about 40 challenges that continuously become very difficult as you level up.
Overall experience
The card game is simple, and in most cases, the child's logical reasoning is required to complete the coaster.
If your child wishes to become an architect or engineer in the future, this is a great game to start building their dreams on.
The interesting part is they start the game of cards, they start with an easy level, but as they play along, it becomes difficult.
Pros & Cons
Pros
-The card game improves kid's reasoning capacity
-It comes with detailed instruction
-Really fun building game for kids
Cons
-Comes with limited vertical column pieces
Alternative(s)
If you need an advanced roller coaster as an alternative for the above kit, settle with this amazing option by LEGO.
The 3-in-1 kit has 923 pieces but comes with a price. It is ideal for kids aged between 9 and 14 years.
-LEGO Creator 3-in-1 Pirate Roller Coaster Building Kit
---
#5. Thames & Kosmos Roller Coaster Building Set


Overview
What a great way to build your dream roller coaster model! Thames & Kosmos has allowed you to make just that.
You can now undertake fun physics experiences to understand motion, force, energy, and many more.
Also, finish challenges that need you to construct roller coasters of all sizes and shapes.
On top of that, the plastic building unit is easy to assemble, durable, and reusable.
Additionally, it comes with a 32-page instructional manual that guides you on building and all the experiments you can undertake on the roller coaster.
Overall experience
It is an ideal gift idea for a growing kid who is interested in building – especially structural engineering.
If you need a kit that will boost your kid's reasoning and thinking capacity, this kit is the way to go.
Plus, it offers you as the parent to learn and understand your child more through the interaction you'll have as your child builds up things.
We also liked this unit because it's quite easy to assemble and has the longevity of the plastic building system.
Pros & Cons
Pros
-The building unit is long-lasting
-The coaster is easy to set up
-Kids can build the roller coaster of all sizes and shapes
Cons
-Difficult to take the anchor pins out
Alternative(s)
Consider ROKR Marble Run Roller Coaster as an alternative if you find the above option does not suit your child.
This option is slightly lower in terms of price, and it's educational as well.
-ROKR Marble Run 3D Roller Coaster Kit
(Included on this list further below)
---
#4. K'NEX Dragon's Revenge Roller Coaster Toy


Overview
K'NEX roller coaster building set is a great companion for those upcoming builders aged nine years and above.
This is a true game where he can watch the dragon's quest to escape. The car drives and dips through the tower to create more fun.
Moreover, the easy-to-understand instructions allow them to connect 576 parts of this roller coaster in easy steps.
After assembly, the dragon will flap his wings whenever you turn on the motor. This motor will easily propel the car for continuous play.
This whole roller coaster will keep your kids busy for long hours. This makes it a perfect gift for them.
Overall experience
It only weighs 3.18 pounds. This makes it easy for little ones to transfer it from one place to another without feeling its weight.
Since it runs continuously, they will be glued to it the entire time. All this will make them have fun while enhancing their building skills.
Ideally, it is designed from high-quality materials that assure you a longer-lasting unit. This will accommodate your growing kid.
Pros & Cons
Pros
-It takes less storage space
-Made sturdy to ensure safer and stable operations
-Takes a few minutes to assemble it fully
Cons
-A bit technical for younger kids
Alternative(s)
Are you looking for the best alternative for the above coaster toy?
Well, K'NEX Thrill Rides Kraken's Revenge Coaster will match your child's needs perfectly. It suits kids age 9+.
– K'NEX Thrill Rides Kraken's Revenge Roller Coaster
---
#3. LEGO Creator Expert Roller Coaster Building Kit


Overview
Lego roller coaster building sets will keep your children thinking and trying to fix all the 4124 pieces.
Once connected, they will be having fun all the entire time.
It is equipped with two trains, three cars, a ticket booth, station, height maker, and many other unique features that your kids would like.
They can easily secure the riders into the train by simply lowering the lap bars and releasing the wheels into motion.
In addition, they can enjoy watching the cars get through the roller coaster's turns and twists.
Overall experience
It includes 11 mini-figures that offer them an immersive experience each time they ride this roller coaster.
Their minds get well engaged from assembly to the actual rides through this unit.
This creative game is suitable for children aged 16 years and above.
This also becomes the best gift for those who love doing some building here and there.
Ideally, they would want to build this unit at all times until it's fully assembled.
This makes them so busy most of the time.
With this, they can improve their motor and building skills.
Pros & Cons
Pros
-Comes with clear instructions for easy assembly
-Offers your child a fun and creative playing toy
-Made from quality durable plastic
Cons
-Huge thus takes more space
Alternative(s)
The best alternative for the above roller coaster building kit is CDX Blocks.
Real roller coaster engineers make this alternative.
-CDX Blocks Cyclone Roller Coaster Building Set
---
#2. ROKR 3D Wooden Roller Coaster Toys Gifts (Marble Parkour)


Overview
ROKR roller coaster building set is one unique gift you can always offer those kids aged above ten years and adores building.
Children have nothing to worry about when assembling this entire unit. The included detailed instructions offer you a more simple assembly process.
Most of its parts are designed from quality plywood that uses laser cutting to ensure that they fit together easily without any extra tools.
Additionally, they are made from eco-friendly materials to keep your child safe at all times.
Overall experience
It is suitable for beginners since it comes with pictorial instructions and necessary accessories to build up the toy.
It keeps your little ones thinking, makes them creative, and improves their eye-hand coordination.
Everyone who sees it will love it; therefore, you can decorate your room or office.
Better still, it weighs 1.9 pounds; thus, they can carry it to any place of their choice to play with their friends.
Also, it included some extra smaller parts to allow your little ones to be replaced just in case to lose some pieces.
Pros & Cons
Pros
-The laser cutting features a quality construction
-Can be used to decorate your desktop or tabletop
-Assures you of sturdier and safer operations
Cons
-Takes up to 4 hours to fully assemble it
Alternative(s)
Here is a better alternative for this roller coaster that will not cost you much by K'NEX Education Roller Coaster Building Set. The unit comes with 546 pieces and suits children of ages 8+.
-K'NEX Education Roller Coaster Building Set
---
#1. LEGO 41130 Friends Amusement Park Roller Coaster


Overview
Lego roller coaster building set is what your kids will ever need to take their building skills to a much-experienced level.
This set is suitable for boys and girls between 8 years and 12 years. It contains up to 1124 different pieces that need to be joined together.
This means that they will need more time to engage their brain fully in assembling this whole roller coaster.
It is made from sturdy and high-grade plastic materials known for their strength and durability.
Even better, this coaster has four carriages, Ferris wheels, and many other accessories for much better play for your children.
Overall experience
The included four mini toys are dressed in summer outfits and well designed to keep them company at all times.
It remains the best toy for your children this coming holiday because it sparks their imagination and keeps them thinking of fixing all the parts together.
They can easily spin the Ferris wheel by simply turning the cap on the front side.
The lights allow children to watch carefully as the little things go through this roller coaster.
Pros & Cons
Pros
-It is more portable
-Has bright colors that are so attractive
-The flashing lights on the rid creates more fun
Cons
-It is a bit pricier
Alternative(s)
If you have extra dollars to trade on some additional features, you can opt for LEGO 41110 Friends Amusement Park Coaster as the best alternative. It best suits a child between 8 and 12 years.
-LEGO 41130 Friends Amusement Park Roller Coaster
---
Conclusion
Finally, we've come to the end of this detailed review on the best roller coaster building sets. These units are crafted from superior quality material; you are guaranteed durability.
Whether you need your kid to have fun or improve their motor skills, one of the above roller coaster sets will suit them.
However, before you can settle with either of them, consider your child's age because a coaster that suits four years old will not suit ten years old.
With that said, we're hopeful that this post will go a long way in enabling you to make a well-informed shopping decision.
Leave a comment in the section below for clarity and addition.