Gadgets Review Guide is a participant in the Amazon Services LLC Associates Program, an affiliate advertising program designed to provide a means for sites to earn advertising fees by advertising and linking to Amazon.com. This post contains affiliate links
In this column, I will review the Vizio 42 inch M-series LED TV
.
This is the review of the Vizio 42 inch M-series LED TV model numbers and description as well as a link to go purchase it on Amazon.
Product: VIZIO E420i-B0 42-Inch 1080p LED Smart TV
Price: $400.00
Cheapest Place to buy: Amazon
Size: 42 inches
My Overall Rating: 4.5 out of 5
Item Model Number: E420i-B0
Speaker Type: Built-in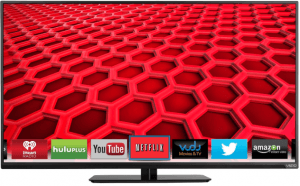 ---
See also:
===>TOP 7 TV With Built-In DVD Player
---
So this is a very cool TV,  it's $500 and you can even find it cheaper and it poses an extremely good value for what you get.
You get a metal frame construction, you get a glossy screen and the display itself is LED with 14 LED zones that are active and they can disable themselves and make the screen have such good contrasts.
It's maybe difficult for you to picture it, you have to see it in person, but the black parts of the screen are so dark that if you turn off the lights in your room and then you go ahead and switch over to a screen that is mostly black, your room will be pitch black.
There is no light coming out of the LEDs in the area of the screen that is black, and it gives the deepest contrast.
In terms of the overall image quality, I really think it is a winner. If you're someone who is in a place where you're gonna have a lot of lights, for example, sunlight, you're most likely not going to enjoy the screen.
It's very glossy, the screen is a very glassy type of gloss it doesn't have a weird formation to it, it's very flat.
The monitor, in general, is very premium, it's a very premium set- up and honestly for five hundred dollars I don't think you can do much better.
As for the Vizio software for the apps, whenever you hit the button on your remote that opens up the apps that you have on your hot bar, you will be able to quickly scroll through and switch over to something like Spotify.
Certain applications allow you to open them up while you are watching television, Spotify not so much.
The quality of the applications for example; Spotify is very good, it's like using it on a desktop it works extremely well and overall is just a great set up that they have.
You can also open up applications on the left side of your screen rather than having to open them up to the full screen.
There is a great selection of applications, you will find eBay, Amazon, and a whole array of others that you would not normally see on a TV.
There are currently 120 apps pre-installed and I am sure many more will be added in the future.
Overall I find the interface for navigating around your apps and things like that to be a little slow at times, but it is very good compared to some other TVs on the market.
If you enjoy gaming, this TV will be a very good buy as well, it is very much compatible with the Sony PS4
and Microsoft XBOX ONE.
The speakers sound great, very rich, very good dynamic range.  Vizio has done a very good job at creating a speaker that has good bass, treble and all around this has a good range.
You really get a good crisp range of sound.  When you are listening to music from the TV, it doesn't sound flat at all, it has a good dynamic range of sounds.
CONS
Overall there is only one big flaw I have about this TV and its actually a minor flaw; the remote.
It looks nice, it's not that bad, it has a great gloss inside of the buttons, I really like the design of it.
The good layout looks premium, it's plastic of course, but it is still pretty good and on the back, you have a keyboard.
The keyboard is extremely good, it feels great, the layout is great.  The only problem I think with this is that there is a backlight on the keyboard.
The backlight on the keyboard is bright, looks good at night just like it should and it works great.
Say you are in the dark using the keyboard and all of a sudden you say to yourself "I need to check my menu real quick for the TV" you flip it over and you can't find your menu.
There is no backlight on the front of the remote which I find to be a very weird decision.
I do not know what was the thought behind this design., but there should have been a light at the front of the remote for easy access to the keys.
Luckily you can program your cable box remote to work with the TV.
So with all that being said,  I hoped this helped you to make a decision on what television you are going to buy.
I think this is a great value for under $500 and actually, if you have more than $500 in your budget there are actually higher up models that have very similar features/qualities to this television.
You can buy a 60 inch or something around 60 inches with the same exact qualities; the aluminum structure on the outside, the all-around incredible contrast ratio, and display quality.
I think it is a great TV.  If you are interested in checking it out just click below.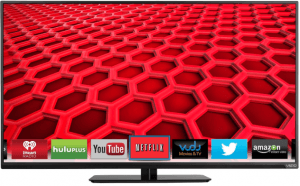 Click here
to check it out on Amazon
If you did enjoy this review or may have any questions or would just like to leave your own personal review, I would be more than happy to engage in conversation.
I tend to reply to questions or comments in less than 24 hrs.  Thank you and do lookout for more reviews soon.
Thank you.