Gadgets Review Guide is a participant in the Amazon Services LLC Associates Program, an affiliate advertising program designed to provide a means for sites to earn advertising fees by advertising and linking to Amazon.com. This post contains affiliate links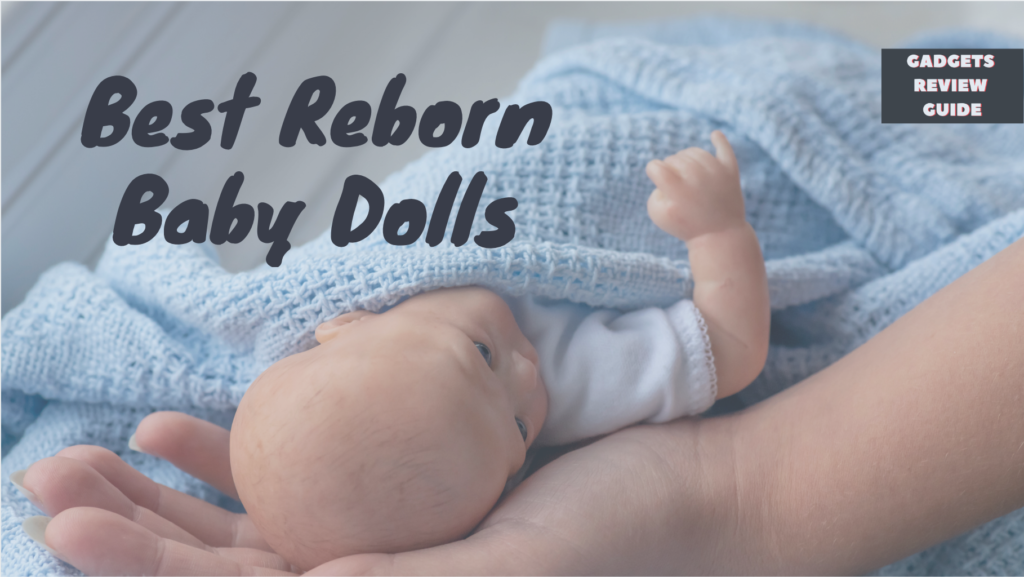 Reborn Baby Dolls That Look Real
Realistic baby dolls are becoming more and more popular with doll collectors and children alike.
Dolls that are called "reborn" are special dolls that have been transformed by an artist to make them resemble a human infant as much as possible.
Reborn dolls have been around since the 1990's when doll enthusiasts wanted to have more lifelike dolls.
These dolls can range from hundreds to thousands of dollars because they really are pieces of art.
Some adults love to collect reborn baby dolls just like any other dolls, but other people get reborn dolls as a way to cope with grief from the death of a child (or miscarriage or stillborn), or as a way to preserve what their grown children were like as babies.
These types of reborn dolls are called "memory reborns."
But these dolls are not just for adults! Children love reborn dolls too!
Reborn baby dolls can help children improve their developmental skills and encourage them to create warm and friendly relationships with others.
These dolls can also improve children's intellectual skills and fine motor skills, as well as just being a fun toy.
Plus, since they look so realistic, these dolls are great dolls to use to help a child get ready for a new sibling's arrival!
Just remember that these dolls are easily damaged and should be played with care.
If you are looking for a reborn doll of your own, here are the top 7 dolls (and other ideas of alternative baby dolls that are similar).
---
The Top 7 Reborn Baby Dolls That Look Real (Plus Their

Pros

and

Cons

)
---
1. Kaydora Reborn Baby Doll, 22-inch Weighted Baby Lifelike Reborn Doll Girl, Lucy

---
Overview
Little Lucy's body is filled with polypropylene cotton which makes her huggable, but she still looks just like a newborn baby
Pros:
· Hand-painted details
· Realistic wig hair
· Handset blue eyes that look real
· Weighted for a real baby feel
· 0-3 months clothes fit her perfectly
· Comes with outfit, pacifier, bottle, and birth certificate
Cons:
· Only for children and adults over the age of three
· Eyes do not open and close
Customer Review(s):
Katelynn Gasiorowski said:
"Excellent doll! So realistic! Myself and my daughters (7 & 4) have been stopped multiple times and questioned if this was a real baby!

These dolls keep my girls entertained for days on end, dressing them up and playing!"
Similar Baby Doll:
Kaydora Reborn Baby Doll, 22-inch Reborn Toddler Adorable Girl Doll, Ellen
Other Popular Article: ➡️  Best Toy Cats That Look Real
---
2. Silicone Full Body Reborn Baby Dolls Twins Boy and Girl

---
If you are looking for twin reborn dolls, look no further than these two precious dolls.
Pros:
· Full-body silicone makes the dolls more durable and waterproof
· Can be washed
· Can be posed to sit or lie down
· Hand-rooted mohair which is very soft
Cons:
· Hair color cannot be changed
· Cannot be purchased separately
Customer Review(s):
Barbara W. said:
"I bought these for my granddaughter for Christmas I loved them so much I bought myself a set of twins!!

They are gorgeous wear newborn or some 0-3 baby clothes I've even fixed a nursery gonna start a collection of this brand excellent quality looks exactly like pic we love them!!!"
Similar Baby Dolls:
Zero Pam Reborn Twins Boy and Girl Dolls Vinyl Soft Body Reborn Toddler Twins
---
3. Aori Lifelike Reborn Baby Boy Doll 22 Inch Handmade Weighted Reborn Baby Doll

---
If you are looking for a realistic boy baby doll, look no further than this handsome little fella.
Pros:
· Weighted body makes the doll feel realistic
· Poseable and moveable arms and legs
· Handset blue eyes and blond hair
· Comes with a teddy bear, outfit, pacifier, bottle, and birth certificate
Cons:
· Only for children and adults over the age of three
· Cannot be washed due to cotton body
Customer Review(s):
Amy Bowers said:
"Oh my gosh…the love my granddaughter has for this doll is so sweet.

She got it for her 9th birthday last weekend and absolutely loves [him].

She even puts [him] in the kitchen cabinet during the day so [he] is "safe" from our cats.

I highly recommend this baby doll for any older girl, as [he] is quite heavy.

We weighed [him] so we could put her weight on the birth certificate that comes with her, and [he] is 3 pounds."
Similar Baby Doll:
Kaydora Reborn Baby Doll Boy, 22-inch Soft Weighted Body
---
4. DOLLHOOD Reborn Baby Dolls – 18-Inch Realistic Baby Doll with Complete Baby Doll Accessories

---
Behold this exquisite 18-inch lifelike baby doll, accompanied by a range of accessories.
Crafted from high-quality silicone, these dolls boast a realistic texture and soft, tender skin.
Their enchanting features include 360-degree posable arms and legs, captivating brown eyes, and luxuriously silky faux hair, making them utterly captivating.
What makes it unique is its plush and huggable cloth body, meticulously crafted with weighted cotton cloth, delivering an authentic reborn sensation when embraced.
This doll arrives with an array of comprehensive baby essentials, featuring a magnetic pacifier, an adorable giraffe toy, a cozy pink hooded vest, pristine white shoes, a convenient feeding bottle, a stylish long-sleeved bodysuit/crawling suit, a charming polka dot beanie hat, and two delightful pink hair ties.
To complete the experience, a birth certificate is thoughtfully included, granting the owner the joy of naming the doll and celebrating her special day.
Pros:
· Rare reddish eyes with hand-applied eyelashes
· Realistic-looking expression
· Can fit in regular newborn-size clothes
· Can sit and lay down easily
Cons:
· Doll is a bit heavy.
Customer Review(s):
Barbara W. said:
"Doll is sturdy, a bit heavy, and so beautiful. A gift you will be pleased to give! Worth every penny/dollar!!!"
Similar Baby Doll:
Milidool Reborn Baby Dolls, Realistic Newborn Baby Girl Doll
---
5. Vollence 20-inch Avatar Sleeping Full Silicone Reborn Baby Doll

---
This doll is from the Avatar Baby Series and she looks just like the characters from the hit 2009 Academy Award Winning movie.
Pros:
· Can be bathed and used with baby powder
· Sparkling, blue skin that looks just like the Na'vi people from the movie
· Sure to please any fans of Avatar
Cons:
· Is specifically a collector's item and not a play item
· Eyes are closed in a sleeping position
Customer Review(s):
Kellie Cook said:
"My daughter absolutely adores her avatar baby! She even took him to Pandora at Disney and got so many compliments! So well made and beautiful!"
Similar Baby Doll:
The Ashton-Drake Galleries So Truly Real Weighted and Fully Poseable Baby Monkey Doll
---
6. Cute Reborn Baby Dolls Girl 22 Inch Weighted Soft Silicone Vinyl Full Body Lifelike Newborn Toddlers

---
This is a beautiful doll with curls that can actually be brushed (preferably with a wig comb).
Pros:
· Completely handmade
· Comes with an outfit, pacifier, bottle, and birth certificate
· Long, curly hair that can be washed or combed
Cons:
· Only for children and adults over the age of three
· Eyes cannot close
Customer Review(s):
M. Butler said:
"We have gotten reborn brand dolls in the past, but this doll has a high level of quality and value for the price.

It appears to be very sturdy and capable of being handled by aggressive young kids.

If you want to get a reborn gift for somebody, contemplate getting this knock off. Extremely comparable."
Similar Baby Doll:
Kokomo Reborn Baby Dolls Silicone Full Body 22" Realistic Cute Big Curly Hair
---
7. Paradise Galleries Newborn Reborn Baby Doll with Magnetic Pacifier, Wishes, and Dreams

---
This is a precious newborn doll with fair skin and light hair that will be perfect for any baby doll fan.
Pros:
· Hand-painted details
· Designed by European artist Jannie De Lange
· Made with GentleTouch Vinyl
Cons:
· Eyes remain closed in a sleeping position
· Hair is delicate and not meant to be combed
Customer Review(s):
James F. Mcglone said:
"I love this doll, her weight is perfect, she is so sweet looking, and just an angel! Thank you for my beautiful new baby!"
Similar Baby Doll:
CHAREX Reborn Baby Dolls 22 inches Newborn Girl
---
Frequently Asked Questions About Reborn Baby Dolls
Are Reborn Baby Dolls Of High Quality?
Reborn baby dolls are made of the highest quality.
When you purchase one of these dolls, you will find that their hair is hand-rooted and their eyebrows are hand-drawn with care.
The baby's nails are homemade as well. You can also choose from two body types- a cloth body or a silicone vinyl body.
If you select a cloth body, your doll will be extra soft and perfect for cuddling.
The baby's shoulders and body are made out of high-quality cotton and filled with polypropylene cotton for a huggable body.
Their limbs are made of gentle touch vinyl and they can sit and lie down easily.
If you go for the baby made out of silicone vinyl, their bodies, as well as their limbs, are made out of the GentleTouch vinyl.
Like the cotton-bodied babies, these dolls can sit and lie down, but these dolls can also stand up or take a bath.
Unlike the cotton dolls which are genderless, the silicone vinyl dolls are gendered.
Are Reborn Baby Dolls Easy To Use?
Yes! Reborn dolls are very easy to use.
They are posable and you can pose them so that they look like they are sleeping, sitting, drinking a bottle, or lying down.
Certain reborn dolls (depending on what they are made out of) can even be given baths.
You can also style your reborn doll's hair (if the hair is mohair, then you can even use gel, pomade, or other hair care products…
(Just be sure to wash their hair afterward) and change their clothes to make them fit perfectly into your collection or your life.
Are Reborn Baby Dolls Worth Purchasing?
While reborn dolls are more on the pricey side, you are getting great quality for the price.
And unlike cheaper dolls, reborn dolls look real!
Reborn dolls are made to look like real infants by using a lot of supplies and it takes a lot of internal and external modifications.
This is what causes them to be more expensive than other dolls.
But with all the hard work that the artists put into the dolls, you are really paying for a work of art.
Some dolls even come with extra features, such as a heartbeat, breathing, crying sounds, or cooing sounds, which will add to their value.
Additionally, a high-quality reborn doll will likely take the artist about 40 hours to make it!
This is because they have to remove features from the original doll and then add layers of paint and weight to make it look and feel more realistic.
Other popular toy reviews:
➡️ Best Kids Washer Dryer Play Sets